Heavenly vistas, and a soothing experience await visitors to Bau Trang. The setting is as incongruous as it is breathtaking.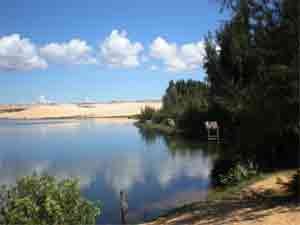 Still waters: Arresting scene at Bau Ong (Gentleman Lake)
We are speechless as we stare at a landscape of turquoise waters in numerous lakes and ponds nestling calmly in the lap of massive white sand dunes, like a watercolor masterpiece with an overdose of imagination.

We had driven in from Mui Ne, already a coastal resort of immense beauty, on the newly laid street to head to Hoa Thang Commune in Bac Binh District. At Hoa Thang, we turned right and followed a path for about fifteen minutes when Bau Trang stunned us.

Bau Trang is not one lake, but an area of 70 hectares that has three lakes and several ponds. To our left is the Bau Ong (The Gentleman), in the middle, Bau Ba (The Lady), the largest one, and to our right is Bau Xoai (Mango Lake), the smallest.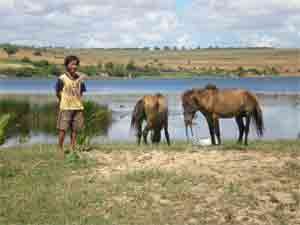 Moonlight guide: A boy who spends his spare time as a guide, stands beside horses on the lakeside
It is said that by giving the three lakes such noble names, the ancients wished to express their gratitude to the natural supply of safe and clean water for themselves and their livestock to survive all the year round, as this was known as the driest area in the Southeast region with a meager annual rainfall of 50 cm. Nowadays, the lakes continue to be a source of fresh water, particularly cherished during the dry season; and of variety of freshwater fish.

We walk to the banks of the 22–meter deep Bau Ong where we can look at the rows of trees, white clouds and sand dunes reflected in the tranquil and clear surface of blue water shimmering in the sunlight. A sun-tanned child approaches us and minutes later, becomes our little tour guide. He leads us through a willow forest to Bau Ba where are enraptured by the scene of hundreds of beautiful vermilion lotuses rising from the shallower end of the lake. This explains why the area is sometimes referred to as the "Lotus Lake" by tour companies. Scattered on the grassy banks of the lake stand domesticated horses unhurriedly chomp on the grass. In the distance, a small boat goes fishing. We rest in the shadow of a willow tree to soak in the tranquility and revel in the cool breeze.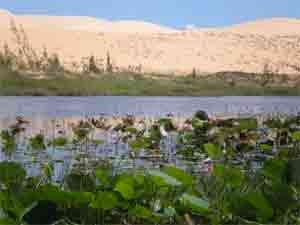 Fragant blooms: Lotuses crowd the shallow parts of the Bau Ba (Lady Lake)
We leave Bau Ba for the Doi Trinh Nu hill (Virgin Hills) which are actually massive white sand dunes stretching as far as the eye can see. Climbing up the dunes in intense sunshine is tough going for us, but in a touching gesture, little tour guides spring up and push us from behind. We are exhausted when we reach the top of the Doi Trinh Nu, but on look at the view is enough to make us oblivious to our exhaustion.

White fluffy clouds seem to wander tantalizingly close to us, and the panorama of blue lakes, green trees and white sand has us in thrall again.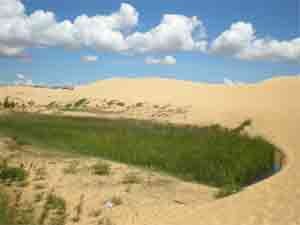 Stroke of green: A grassy patch on a massive sand dune
We go down the dunes. We are exhausted afresh, but our little tour guide is not. He tells us he lives in a poor neighboring village. He gets up very early in morning and walks more than ten kilometers to Bau Trang to work as a tour guide during the summer holidays to help his family. Like other little tour guides in Bau Trang, ours was very friendly, helpful and could speak English well. His story, friendliness and optimism adds bite to the soothing balm of our Bau Trang experience.

Located some 65 kilometers to the northeast of Phan Thiet, the capital city of Binh Thuan Province in southeastern Vietnam, Bau Trang (White Lake) is a natural masterpiece and a must-see addition to Mui Ne, the popular coastal resort.