Going for a shop or window shopping at night markets is pleasure for many people. With hundreds of stands offering products from home wares, gifts, footwear, garments, handbags to foods and many more, Ben Thanh has been widely known as one of big night markets in Saigon where shoppers can stroll about to get almost every thing.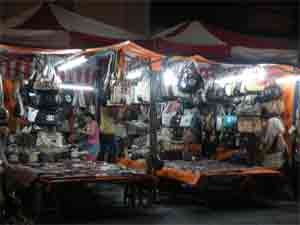 Handbags are a popular item among night-market shoppers
When the 13,000- sq. meter Ben Thanh Market closes at 6:30 pm, the side streets beside it will turn into a night market. Pho Mua Sam Night Market is the real name of the night market. In fact, the night market sells goods available in Ben Thanh market at daytime, but they are sold at little lower prices.

As early as at 5:30 p.m., traders begin to display their goods on stands. At 6:30 p.m. the night market is lit up by neon lights. Shoppers are seen everywhere. Nowadays, the night market not only attracts local shoppers but also foreigners and overseas Vietnamese people staying in luxury hotels or from backpacker areas nearby. These tourists usually go out of their lodging to saunter to the city center to take the air in the evening. When walking by Pho Mua Sam Night Market, many of them cannot resist the temptation of dropping in to have a browse because of the lights and hubbub atmosphere there.
The Ben Thanh Market has four main gates named after the directions they are facing to: East, West, South and North. As soon as arriving at the corner of Phan Chu Trinh Street which runs past Cua Tay (West Gate), I was offered a lift by several cyclo riders who saw the digital camera in my hand and thought I was a tourist from another country in Asia. "Have a ride? One-hour ride around the city center and along the river bank to take photos?" – That was exactly what they had told me.

I was soon dazzled by the bustling scene of crowded people selling and buying at the market. The Nguyen An Ninh Street looking directly to Cua Tay (West Gate) and Luu Van Lang Street looking directly to Cua Dong (East Gate) are mainly used as areas for shopping at night where all kinds of goods and wares from clothes, ao dai (Vietnamese gowns), shoes and sandals, glasses, souvenirs, hats, cosmetics, jewelries to hair pins … are displayed for sale.
Shoppers and strollers were found every where in the night market. While many foreigners were going in and out souvenir, belt and T- shirt stands where they could buy these items at lower prices than those showcased in shops along Le Loi Street for themselves and for their friends and/or relatives at home, most of locals on the other hand were gathering at garment, shoe and handbag shops.

Like the cyclo drivers, shop owners thought that I was a foreign tourist so they invited me to buy their goods in English. At the wooden shoe stand nearby, the shop owner was speaking Japanese to two young Japanese girls who were in Vietnamese gowns. Many Thai, Korean and Chinese were also heard to be spoken by traders there. It does not exaggerate at all as Ben Thanh is called "international market".

Hanging about in front of a shoe stands, Hong Ngoc, a teacher of a nursery school said, " I sometimes go to the night market to do the shopping. A wide range of goods are sold here at budget prices. Many shop owners here used to jack up the prices of their goods by 40 percent -50, but they don't any more. Some now still say prices little higher than others but you can haggle to get reasonable prices."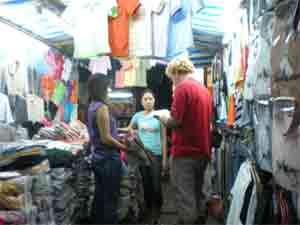 Bargain hunter:  A visitor checks out T-shirts
Standing at a stand selling T-shirts of all kinds is a foreigner looking cautiously at the stitches on an item. The man then stretched the waistband to check its elasticity before making a good bargain. After the man going away, the young salesclerk of the stand who is a high school student at daytime said, "Many foreign backpackers are good bargainers as they know the prices of goods quite well. We on the other hand never increase the prices nor sell goods of bad quality to foreigners for the sake of national self-respect."

Before or after going shopping or window-shopping, many shoppers or visitors usually have fun at the two food centers. The first is organized on one side of Phan Chu Trinh Street and the other on one side of Phan Boi Chau Street running past Cua Dong. Most of the foods served here are seafood, traditional specialties of Vietnamese people in three different regions of the country including Pho (Vietnamese noodle soup), Bun Bo Hue (a popular Vietnamese noodle soup originated in the old imperial capital of Hue), Banh Khot (mould- rice cakes) Banh Beo (steamed- rice cakes), Banh Canh Cua (Crab noodle soup) and many more. Some Chinese foods like Chinese noodles and roasted suckling pigs are also found.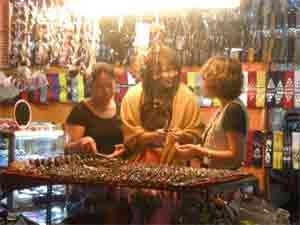 Trinkets: Another popular night market draw
A local diner said, "From time to time, my friends and I do the shopping and then eat here. The prices of goods are okay but foods rather expensive." Explaining why there were many foreigners among diners, he said," I think the food prices are budget to foreign tourists but not to local low and average incomers." I dropped in a food stand and ordered a bowl of chicken rice noodles and a glass of sugar cane juice for a check. I had to pay 42 thousand dong for all. Yes, the foods are actually rather expensive for an average incomer like me, indeed.

I left the night market at 9:00 p.m. The hectic atmosphere of the busy market behind me would last until 2:00 a.m. of the following day. When the night traders got home to sleep, other people began to get out into streets to start a new day. Did Saigon ever sleep at night, I wondered.