Discovering Ho Chi Minh Trail
Tourists who like venturing and exploring historical places should choose the tour called "Discovery Journey along the Ho Chi Minh Trail". Tourists will travel along Road 559 (the code name of Truong Son Road in the wartime). They will also be able to visit historical places such as Tan Cang Hill, Khe Sanh Battlefield and Phuong Hoang Airport. The tour will also stop by Mother Suot's monument in Quang Binh Province and the Dong Loc Road Junction.
Leaving the Ho Chi Minh Trail, tourists can also go on a tour of the ancient capital of Hue and Hoi An Ancient Town, and enjoy beautiful beaches in Viet Nam's central coast provinces. The package tour costs VND 3,995,000.
The 10-day tour starts on December 15.
Booking tour at local travel agencies.
H.Q
Five hundred meters east of Xuan Huong Lake is a sight not to be missed, the Da Lat's Cog Railway Station. While the elegant French-style building no longer serves the rail system of Viet Nam, it is not without a purpose, which is as one of Da Lat's prime tourist attractions.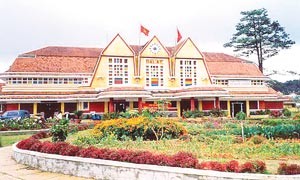 Da Lat Cog Railway Station
Built in 1932, Da Lat's Cog Railway Station once served the Sai Gon to Nha Trang rail service. During the journey, the train had to pass through five tunnels, the longest being 600 meters. Additionally, the train used a cog wheel system, which is a toothed rail that meshes with a cog wheel under the train allowing the train to operate on steep inclines. One area the cog wheel was needed most was along a 16 km stretch going up a mountainside.
Currently, tourists can take a train ride from the Cog Railway Station for a 7 km excursion to the Trai Mat village. The 30 minute journey passes through ornate vegetable and flower gardens, which make its leisurely pace quite pleasant and relaxing. Once in Trai Mat, tourists may take a stroll to the nearby Chua Linh Phuoc, a newly renovated Buddhist pagoda.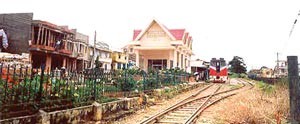 Trai Mat Station
Also, some old-style train cars and a black steam engine, over a century old, sit dormant on the adjacent track, and are worth some good shots.
Da Lat's Cog Railway Station offers five daily trips to Trai Mat, including weekends. The first three journeys depart in the morning at 8, 9:30, and 11, while the afternoon trips leave at 2 and 3:30. Tickets for a one-way trip cost VND 35,000, and for a return trip are VND 70,000.
For additional information and tickets contact Da Lat's Cog Railway Station at 01 Quang Trung Street, Da Lat – Telephone: 063-834409.