Electricity of Vietnam Group (EVN) should make the most of its leading role to develop the domestic electricity market and look to international markets, Deputy Prime Minister Nguyen Sinh Hung said at the group's debut in Ha Noi yesterday.
In the 2006-2010 period, Mr. Hung said, the EVN Group (previously the Electricity Corporation of Viet Nam) must strive for an annual growth rate of 16-17%, double that of the country's GDP.
He stressed that in the coming years the group's focus must be on developing human resources, enhancing management capacity and increasing the efficiency of business activities to maintain its domination of the domestic power market and expand its services to foreign markets.
Speaking at the inauguration ceremony, the head of EVN's Board of Management, Dao Van Hung, said the group would operate as a multi-modal and multi-ownership concern focusing on major fields such as power generation and trading, telecommunications infrastructure and electrical engineering.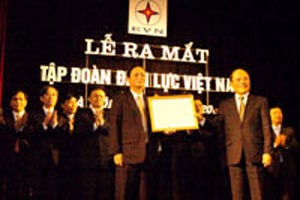 Deputy PM Nguyen Sinh Hung (R) hands over the certificate to a representative of the EVN Group at the inauguration ceremony.
He said the power sector had set targets of generating around 97 billion kWh by 2010 for the national economy and household use, and supplying 95% of rural households with electricity by then.
To increase its competitiveness and efficiently integrate into the world economy, he added, EVN would speed up the equitization of its member companies and create favourable conditions for all economic sectors to engage in the electricity market.
Viet Nam now has 124 power stations with a combined generating capacity of over 34,600 MW. The 48 power plants owned or partly owned by EVN account for 20,500 MW of the total.