Private enterprises have laid the foundation for and imparted momentum to the development of Viet Nam's economy, said Bui Quang Vinh, Minister of Planning and Investment.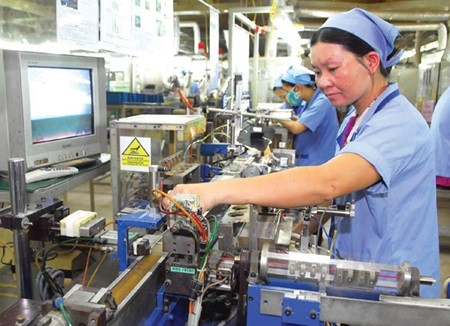 Workers at a factory run by Sankoh Viet Nam Co Ltd in Hoa Binh Province that makes electronics accessories (Photo: VNA/VNS)
Vinh hailed the contributions of businesses while addressing more than 150 businesses, from both inside and outside the country, at a discussion on, "Viet Nam Economy 2015: Opportunities and Challenges," held in Ha Noi yesterday.
"All businesses, ranging from State-owned enterprises, to private and foreign direct investors, have played a decisive role in Viet Nam's economy," he said.
He wondered why Viet Nam had not taken advantage of its sizeable population being a human resource rich in intelligence and creative capacities.
"The Vietnamese Government is determined to implement reform. During the past six months, the Prime Minister has taken drastic measures to improve the country's business environment to reach and exceed the average level of nations in the ASEAN-6 in 2015 and to achieve the average level of countries in the ASEAN-4 in terms of some key targets," he added.
Specifically, the time for payment of taxes would be reduced from the current 800 hours to 300 hours this year and 175 hours next year.
Vinh said Viet Nam was facing both opportunities and challenges.
This year, Viet Nam would sign several free trade agreements, as well as become part of the ASEAN economic community.
Therefore, it was important for the business community to understand the opportunities and challenges lying ahead and to prepare for integration. If enterprises did not prepare carefully, they would fail in their own country, he said.
One of the main challenges Viet Nam was facing was corruption, Vinh said.
He cited the example of a business from the European Union, which had wanted to purchase products from Vietnamese firms, but local companies had demanded a commission.
"Enterprises demand transparency from the Government and management agencies. However, they have to be transparent themselves too," he said, adding that transparency was a vital requirement for the progress of the economy.
Vinh confirmed that the Government's reforms would become a reality and not remain on paper.
Ricky Tan, chairman of Kinder World, asked how could the time taken for completing investment procedures be reduced from the current 45 days to 15 days when it had taken several firms as many as 3-4 years to complete such formalities.
He suggested a strict mechanism to bring the revised Investment Law into operation.
"The reduction in time has been a big effort. However, the decision from the Department of Planning and Investment would not be applicable only to localities. It would relate to other procedures as well. This time, we will have to adopt drastic measures to prevent staff from harassing businesses."
Tran Thanh Trong, general director of the Sang Ban Mai Company, said some units required wholly imported products in their bidding.
Minister Vinh said the newly promulgated law on bidding stipulated that the Government encourage participation of domestic companies in the bidding.
He asked relevant agencies under the ministry to study the issue and resolve this shortcoming as soon as possible.
The discussion offered policy makers and businesses a chance to voice their concerns, thus creating momentum for the economy's development.
This year is being seen as the year for businesses as the economy depends heavily on the community.
Viet Nam's economy saw a clear recovery during the first quarter of the year, with GDP growth touching 6.03 per cent and paving the way for 6.2 per cent target for the whole year.