Prime Minister Nguyen Tan Dung yesterday said Viet Nam was thankful for advice and recommendations that would enable the nation make progress on its way to a full market economy and deeper global integration.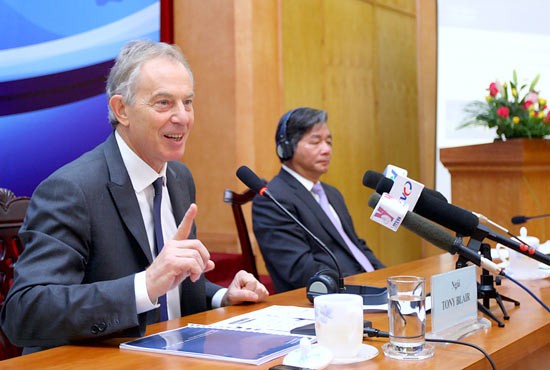 Former UK Prime Minister Tony Blair at the meeting (Photo: SGGP)
He requested visiting former UK Prime Minister Tony Blair to use his prestige and experience to invite more investors to Viet Nam to invest in projects or become strategic stakeholders in equitised SOEs.
He also urged Blair to facilitate strengthening of the Viet Nam-UK strategic partnership in trade and investment, education and training and science and technology.
Blair pledged all possible help to Viet Nam including introducing high-profile investors as strategic partners in the equitised Vietnamese State-owned enterprises (SOEs).
He expressed his optimism about the prospects of greater co-operation between Tony Blair Associates and Vietnamese partners. He said he would back joint efforts to develop public-private partnership models, restructure Vietnamese SOEs and stimulate foreign investment.
It is time for Viet Nam to lift its development level based on its growth and integration achievements, Blair said.
Receiving Blair the same day, Deputy Prime Minister Nguyen Xuan Phuc said he was confident that the visit would intensify the strategic partnership between Viet Nam and the UK.
Blair told his host that SOE reform and private sector empowerment was a worldwide trend that has fostered prosperity.
In a policy discussion with the Ministry of Foreign Affairs, Blair said part of the ministry's role was to open up opportunities for the country's economic development.
He said that besides its traditional diplomatic mission, staff of the Foreign Affairs Ministry should make it their mission to market the right image for the country to the rest of the world and promote economic opportunities that can improve people's lives.
The ministry should become a centre of information, research, knowledge and analysis that helps people understand how profound global changes implicate their lives.
Blair also praised the Vietnamese leadership for its success in attracting about US$240 billion worth of investment into the country last year. He noted that the country was negotiating three major free trade agreements, particularly one with the European Union.
He reiterated the importance of public-private-partnerships in Viet Nam's next stage of development and acknowledged the Vietnamese Government's desire to take the country to the next level of growth.
Restructuring
Planning and Investment Minister Bui Quang Vinh said yesterday that Viet Nam needs to clear all hurdles in the way of economic growth, including the restructuring of State-owned enterprises (SOEs).
Addressing a meeting held to present the preliminary results of a 10 month-research conducted by Tony Blair Associates on SOE restructuring, public-private partnership (PPP) and attracting foreign direct investment, he said Viet Nam has made great efforts in SOE reform over the past few years.
The research was commissioned by the Ministry of Planning and Investment.
The number of SOEs in Viet Nam has decreased from 12,000 in the 90s to 800 at present, Vinh said.
However, he added, the SOE equitisation process needs to focus more effectively on improving corporate governance.
Former British PM Tony Blair concurred with the Minister, saying the restructuring of State-owned enterprises (SoEs) has brought about major changes in the Vietnamese economy, especially in attracting foreign direct investment.
Discussing the evolving role of SOEs in the Vietnamese economy, Blair said that the SOE restructuring process would always have to overcome many obstacles. —