Prime Minister Nguyen Tan Dung and four deputy PMs held a meeting yesterday with Ha Noi's leaders to discuss the capital city's socio-economic development for 2015.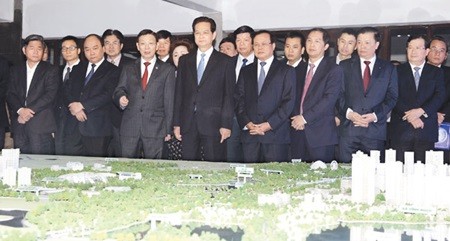 Prime Minister Nguyen Tan Dung works on a model of the Nhat Tan-Noi Bai Expressway, a vital transit route in Ha Noi, with the city's leaders. — VNA/VNS Photo Duc Tam
At the centre of discussions was investment and planning for what will become the vital transit route in the city, the 11.7km long Nhat Tan – Noi Bai expressway. It will span over 2,000 hectares and requires VND33 trillion (US$1.5 billion) for site clearance. It is expected to be completed by 2025.
Chairman of the Ha Noi People's Committee, Nguyen The Thao, said the city created 140,000 jobs, successfully elevated 14,500 households from the poor-household category and maintained a growth rate of 8.8 per cent last year – for this year Ha Noi set a growth rate target of 9-9.5 per cent.
Regarding the Nhat Tan – Noi Bai project, the chairman said the city has finished preparing the legal framework and planning process as well as a detailed model by the Ha Noi Urban Planning Institute.
The project is to be divided into eight urban development projects under the supervision of a Project Management Unit for Urban Planning.
The city will select capable and experienced investors with sufficient funding to carry out land site clearance, infrastructure development, and has the ability to manage and operate the premises in the post-construction stage.
Regarding the Nhat Tan – Noi Bai route, the PM said the State would reclaim land and offer compensation to local residents, preferably in the form of relocation.
He ordered ministries and agencies to collaborate with the city to secure funding for the project from various sources such as Official Development Assistance (ODA) as well as the State and city's budget.
He urged the city to take additional measures to attract investment from public-private partnership if such ventures could be appropriately combined with the project.
The PM approved the city's proposal to make a budget adjustment to the 2016 – 2020 period which will allocate up to 45 per cent of the city's GDP, instead of the current 42 percent, to socio-economic development. —