Pakistan's Taliban have denounced all foreign aid for victims of the country's catastrophic flooding, and said they can match the latest US pledge of 20 million dollars.
"We condemn American and other foreign aid and believe that it will lead to subjugation. Our jihad against America will continue," a spokesman for the group, Azam Tariq, told AFP by telephone.
"The government should not accept American aid and if it happens, we can give 20 million dollars to them as aid for the flood victims," he said.
"We will ourselves distribute relief under leadership of our chief Hakimullah Mehsud among the people, if the government assures us that none of our members will be arrested."
The floods have been most devastating in the Taliban's stronghold in the northwest. Across Pakistan they have left six million people dependent on humanitarian help for their survival, the United Nations said.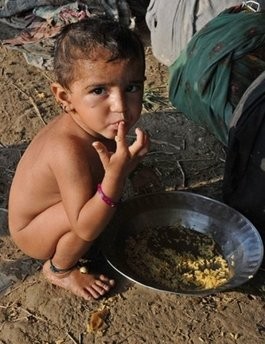 A flood-affected Pakistani child eats at a roadside in Sukkur
The United States announced Tuesday it would increase its flood aid by another 20 million dollars to 55 million dollars, while the UN said it would launch an international appeal for several hundred million dollars.
The world body believes 1,600 people have died in the floods while the Pakistani government has confirmed 1,243 deaths.
US aid so far has included 436,000 halal meals and 12 pre-fabricated bridges, while the White House said that US helicopters had helped to save more than 1,000 lives in Pakistan.
But critics say that as the worst floods in living memory spread across Pakistan, the official relief effort has been woefully slow, and Islamic charities have been stepping into the breach.
Pakistan's Tehreek-e-Taliban faction is a key architect of extremist violence that has killed more than 3,570 people across Pakistan in three years.
However Daniel Feldman, a senior State Department official working on Afghanistan and Pakistan, on Tuesday dismissed reports of extremist groups providing aid to needy Pakistanis as "quite overblown".
Referring to US efforts to win public support in a country where anti-American feeling runs high, Ward said the US government tries to "brand as much as possible" of its aid.
"In this crisis, in the face of this disaster, we very much want the Pakistani people to know that the people of the United States are behind them, are helping," Ward said.
Beyond the northwest, about 1.5 million people have been evacuated in the south and a large swathe of fertile farmland has been destroyed in the central province of Punjab.
Parts of the northwestern Swat valley, where Pakistan fought a major campaign to flush out Taliban insurgents last year, were still cut off Tuesday by road, as were parts of the country's breadbasket in Punjab and Sindh.
But weather cleared Tuesday, allowing Pakistani, US and Afghan helicopters to distribute relief items and rescue people stranded in the northwest.
UN officials said aid would focus on six million people who need emergency help to survive, while 14 million in all are said by Pakistani authorities to be facing direct or indirect harm.
The UN has warned that children are among the most vulnerable victims, with diarrhoea the biggest health threat and measles a serious concern.
At the Ali Wahan relief camp about 20 kilometres (13 miles) east of Sukkur in Sindh province, there were barely a dozen flood survivors and a clinic with limited stocks of basic medicine.
"There are no facilities for families to live in this camp. My husband has gone to arrange some transport and we'll leave," said Mai Jannat, 35.
Doctor Nazir Ahmed at the camp said patients were suffering from gastroenteritis, stomach and eye diseases.
President Asif Ali Zardari is now back home after courting massive criticism for not cutting short a visit to Britain and France, although it was unclear if he would visit flood-hit areas.