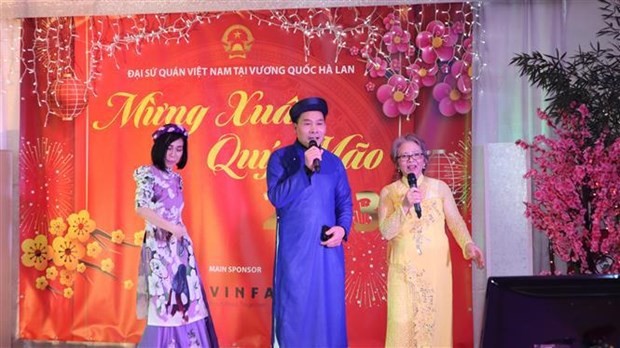 Overseas Vietnamese sing at the celebration of the Lunar New Year held at Vietnam Embassy in the Netherlands. (Photo: VNA)
They were joined by the ambassadors of ASEAN countries in the Netherlands.
Speaking at the event, Vietnamese Ambassador to the Netherlands Pham Viet Anh highlighted that the celebration is organised after a two-year disruption due to the Covid-19 pandemic.
He briefly informed Vietnam's socio-economic development achievements in 2022, stressing that despite global difficulties, Vietnam recorded a GDP growth of over 8 percent, adding that Vietnamese communities across the world and in the Netherlands contribute to the national development.
Participants in the event enjoyed musical shows and food prepared by the overseas Vietnamese.