The ORBIS Flying Eye Hospital – the world's only airborne ophthalmic surgical and training facility – returned to Vietnam's central coastal city of Da Nang on August 10, to transfer ophthalmic surgical techniques as well training programs.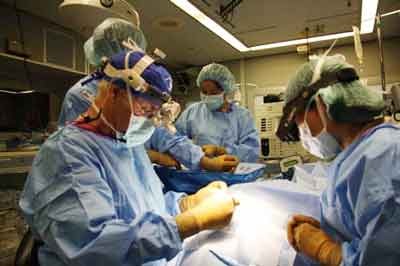 Eye experts of the Flying Hospital are conducting the first surgery (Photo: Courtesy of Orbis Vietnam)
From now to August 20, the hospital's experts will provide treatment to 275 eye patients in Danang City and 200 people in the central province of Thua Thien – Hue in September.
Thirteen leading ophthalmic experts from the UK, the US, Canada and ten Laotian and Cambodian doctors, will deliver lectures to 41 ophthalmologists and nurses at Da Nang Eye Hospital.
In addition, around 100 ophthalmologists, 20 nurses and 15 technicians will receive online lectures from the Orbis Flying Eye Hospital's surgery ward and will also receive hands-on instruction.
The Orbis Flying Eye Hospital arrived in Vietnam for the first time at Da Nang Airport in October 2006; this is their third visit to Da Nang City.