California Governor Arnold Schwarzenegger signed a state measure on August 5 that officially recognizes the flag of the former South Vietnam regime.
The regime has not existed since 1975 and the recognition of the flag is a major blow to the Vietnamese people's self-respect and is not in line with the development of diplomatic relations between Viet Nam and the US.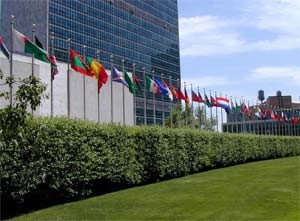 The Vietnamese flag, together with other countries' flags, recognized by the United Nations (Source: http://norman.walsh.name)
The Socialist Republic of Viet Nam's currently red flag with the yellow star is the only flag representing a unified and independent Viet Nam. The flag is recognized and respected by the international community. The US Government has recognized the Vietnamese flag since the two countries set up their diplomatic relations on July 12, 1995.
Relations since that day have developed in a positive manner, warming ties in both political and economic areas. Two-way trade has been continually increasing since the Viet Nam-US Bilateral Trade Agreement took effect in December 2001.
The US became Viet Nam's biggest trade partner in 2003, with bilateral trade reaching US$5 billion, and that figure rose to US$6.4 billion in 2004.
Cooperation in other fields of education, health care and science has also developed considerably.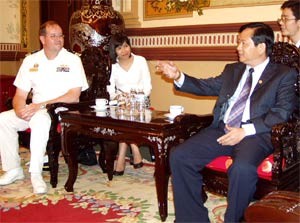 Two US Navy ships, USS Patriot and USS Salvor conducted a port call on Ho Chi Minh City early this July. USS Patriot commanding officer Richard Brawley (L) pays a courtesy visit to deputy city mayor Nguyen Huu Tin (R) at that time. (Photo: T. Thuy)
Even in military and national defense, the two countries have seen significant progress. Various US military ships have paid courtesy visits to Vietnamese ports, and Secretary of Defense Donald Rumsfeld paid his official visit to Viet Nam in 2006.
Above all, US President Bill Clinton's visit to Viet Nam late 2001, Vietnamese Prime Minister's Phan Van Khai's visit to the US in 2005, and US President G. Bush's planned trip to Viet Nam later this year illustrate the two countries' cooperation and determination to normalize all ties.
Against this progress, California governor Arnold Schwarzenegger's official recognition of the flag of the former South Vietnam regime is a haunting reminder of the past rather than a step forward and is divisive of the Vietnamese community in America.
We think that the US Government should take prompt action to cancel that recognition and prevent any similar decision from being issued across the US.
We are confident that the Vietnamese community in America, who always gave their heart to their fatherland and hold the proper awareness of history, will protest against moves intended to separate the community and curb the development of Viet Nam-US relations.