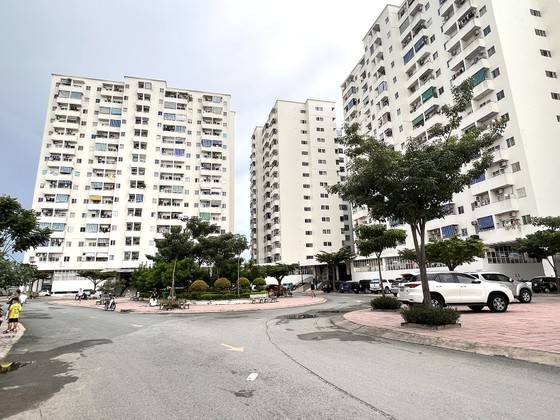 Illustrative photo
The city Department of Construction held a conference to review the work of the Party, government, and patriotic emulation movement in 2022 and the implementation of tasks in 2023.
Addressing the conference, a representative from the Department of Construction said that mid-priced apartments with a price range of VND20 million-VND40 million per square meter ($855-$1,711) decreased by nearly 27 percent compared to last year or from more than 3,600 apartments to 2,637 apartments.
Moreover, the Department of Construction said that, from the beginning of 2022 until now, it has confirmed the eligibility to raise capital for 25 projects; more than 12,000 houses with a total area of more than 1.3 million square meters. Amongst them, there are 10,632 apartments, and more than 1,500 low-rise buildings with a total capital mobilization value of more than VND252,000 billion. Of these, luxury apartments account for an overwhelming proportion with 9,510 units or 78.3 percent, the mid-end segment only has 2,637 units with 21.7 percent.
In comparison to 2021, the segment of high-end apartments with prices of over VND 40 million per square meter in 2022 will decrease from 10,245 to 9,510 units, but in terms of the overall proportion of housing, this rate is still high with the rate of 74 percent in 2021.
Furthermore, mid-priced apartments with a price range of VND20 million-VND40 million per square meter ($855-$1,711) decreased by nearly 27 percent
Vice Chairman of the People's Committee of Ho Chi Minh City Bui Xuan Cuong highly appreciated the efforts and results achieved in the past year of the Department of Construction including the management of illegal and unauthorized construction; for instance, illegal construction in Binh Chanh outlying district decreased by 72 percent compared to 2021.
He also noted that a number of projects and programs have been issued but have not achieved the desired results. Many social housing projects have been kicked off but because of many formality bottlenecks, these projects were delayed. The removal of problems in real estate projects is still slow and has not resolved business proposals.
Specifically, he pointed out that projects to renovate old grade-D apartments, social housing, and house relocation along canals were carried out behind the schedule. The Department of Construction needs to aggressively pursue and solve the above problems. In 2023, the Department of Construction also needs to focus on solving bottlenecks, promoting administrative reform, improving the investment environment, and having flexible and creative ways of working for housing development and the real estate market.