At 7am today, the storm was at around 180 kilometers from the maindland provinces of Quang Ninh and Hai Phong with the sustained wind of 75- 90 kilometers an hour.
Although the tropical storm has not yet entered Vietnam, the Northern provinces suffered long- lasting heavy downpours during Thursday afternoon.
Amid the upcoming bad weather condition, Quang Ninh, Thai Binh and Hai Phong urgently adopted solutions against the violent storm in order to minimize unexpected damages.
As forecasted, this year's third storm hitting the East Sea is going to make landfall city of Mong Cai, Quang Ninh province.
In order to actively deal with the tropical storm, the local authorities called on more than 1,200 off-shore fishing vessels to move safe anchorage and avoid dangerous zones.
Last night, its eye was at around 330 kilometers from the mainland provinces of Quang Ninh and Hai Phong with a maximum wind speed of 75- 90 kilometers an hour.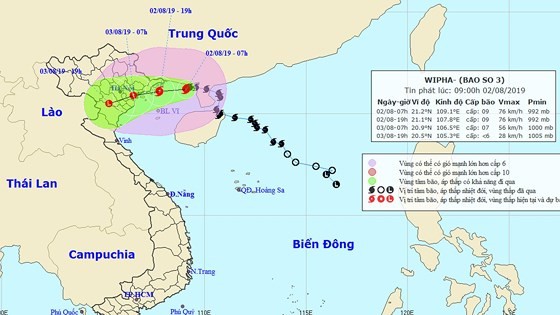 Typhoon Wipha is heading towards Vietnam's mainland.
During the next 48- 60 hours, the tropical low pressure is forecast to move west- southwestward at a speed of 10 kilometers an hour and approach in the mainland before turning into a low pressure zone.
From last night to August 4, heavy to heavy downpours are waned in the Northern and North- Central provinces with the highest rainfall of 100-300 mm.
At a recent conference of the Central Steering Committee on Natural Disaster Prevention and Control in capital city of Hanoi to discuss about carrying out measures against typhoon Wipha, Director of the National Hydrology Meteorology Forecast Center warned that Quang Ninh and Nam Dinh would be the most affected provinces as arrival of Wipha at the nighttime of August 2.
Deputy Minister of the Agriculture and Rural Development Nguyen Hoang Hiep informed different forecasts from the international hydro-meteorological stations about changes of rotation and intensity of typhoon Wipha.
He also recommended that the mountainous provinces need to observe landslide and flashflood following long- lasting heavy rainy days.