An unusual phenomenon is being recorded in the northern region over the last few days, in which temperatures have plummeted to as low as 17-18 degrees celsius in mid-summer, caused mainly by a severe cold front since June 10.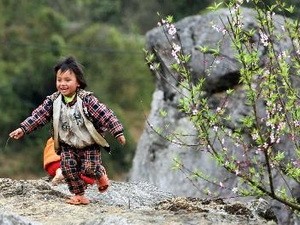 Northern region sees temperatures plummet mid-summer (Illustrative photo: VNA)
According to the National Hydro Meteorological Forecasting Center, temperatures dropped to only 17-18 degrees celsius in Tam Dao District of Vinh Phuc Province and Hoang Su Phi District of Ha Giang Province on June 13.
Mercury slid to 15-16 degrees celsius in Ngan Son District in Bac Can Province, Mau Son Mountain in Lang Son Province, and Pha Din Mountain Pass in Lao Cai Province.
Sa Pa District in Lao Cai Province and Sin Ho District in Lai Chau Province were even colder at 11-12 degrees.
Le Thanh Hai, deputy director of the National Hydro Meteorological Forecasting Center, said that such a weather phenomenon has occurred only few times before in Vietnam in the last 16 years.
Such a phenomenon occurred in 1997, 1998, 2000, 2010 and now 2013 when a cold front moved in peak summer time. However, this latest cold wave has been the severest ever.
Hai said that mercury will gradually move up after June 16.
A low pressure zone has taken shape in the northern part of the East Sea to cause bad weather conditions on the high seas including areas around Hoang Sa (Paracel) Islands.
According to Hai, this low pressure zone might develop into a tropical low pressure system to bring in more rainy and stormy weather.