Unseasonal rain over the last few days in the southern regions including Ho Chi Minh City is forecast to prolong for the next couple of days.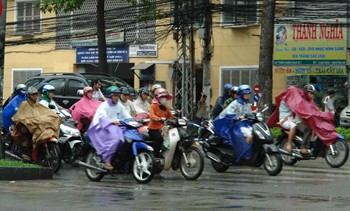 Unseasonal rain is expected to prolong in Ho Chi Minh City for a few more days (Photo: Thanh Nien)
According to Nguyen Minh Giam, deputy director of the Southern Regional Hydro Meteorological Forecasting Centre, unseasonal rain was caused by the cold front in the north and the tropical depression in the southern parts of the East Sea.
Rain is expected early morning and late afternoon, with high humidity caused by light fog in the morning.
Early morning of February 22, a long lasting heavy rain spell   triggered flooding on some streets in HCMC.
 
Among the worst affected was Nguyen Huu Canh Street in Binh Thanh District. Several motorcycles broke down along the street as some sections were submerged under 0.5 metres of water.
Other streets like Huynh Tan Phat in District 7, Kinh Duong Vuong in Binh Tan District, Vo Van Ngan in Thu Duc District and Pham The Hien in District 8 also suffered mild flooding.
Besides, as rain occurred during peak hours, it resulted in traffic jams near entry areas to the city centre, such as on Truong Chinh, Cach Mang Thang Tam and Pham Hung Streets, Highway 13, and the Hanoi Highway.