Typhoon Parma is slowly moving out to the East Sea after missing Tropical Storm Melor October 9.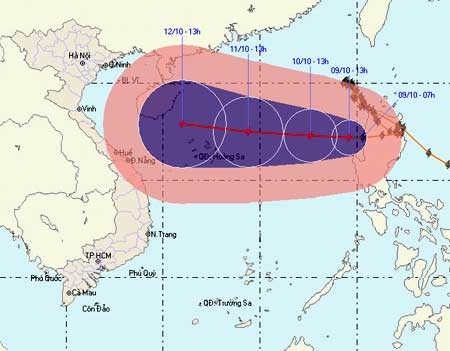 Typhoon Parma's forecast direction, as reported by the National Centre for Hydro-meteorological Forecasting (Photo: NCHMF)
It is the second visit by the typhoon over the sea after its first harmful visit on October 4.
In recent days, Parma interacted with Melor and the two slowly got closer to one another when nearing the Philippines' northeastern coast of Luzon Island.
Typhoon Parma has weakened a little since the night of October 9 and is currently 700 kilometers east-northeast of Vietnam's Hoang Sa Islands.
The greatest worry is that the sea's temperature has risen and may strengthen the typhoon.
It is forecast to move east in the next 24 hours, with wind speeds currently at a low of five to ten kilometers per hour.
As forecast, the typhoon may brush the north of the Hoang Sa Islands before turning west-northwest.
Starting from October 11, the sea nearby the Hoang Sa Islands will see the increasing speed of winds, up from level 6-7 to 8-9 and is expected to intensify into level 10-11.
The Minster of Agriculture and Rural Development held an urgent meeting late October 9 with the Flood and Storm Prevention Central Board to issue an immediate alert to fishermen that they should stay clear of Hoang Sa and the northeast of the East Sea.
Vietnam's North and Central regions have been told to prepare for possible heavy rains caused by the typhoon, especially with harvest time for rice approaching.
Related articles:

Typhoon Parma changes its direction
Typhoon Parma menaces Vietnamese coast
Super typhoon Parma enters East Sea
New typhoon heads for East Sea, Vietnam