Typhoon Nock-Ten moved 190 kilometers towards the east coast of Thai Binh and Ha Tinh Provinces by 10am this morning and is expected to unleash its fury in the northern parts of the central region by Saturday evening, the national weather bureau said.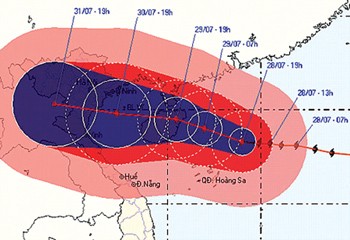 Charts shows typhoon moving towards the central regions (Photo: nchmf)
Wind gales currently at the center of the typhoon were at levels 9-10 and moving at 89-102 kilometers an hour, according to the National Hydro Meteorological Forecasting Center.
Within the next 12 hours, the typhoon appears to move westwards at 20-25 kilometers an hour, directly affecting regions between Quang Ninh till Ha Tinh Province by noon.
By 10pm today, the Nock–Ten epicenter is expected to entrench itself on the north of the central region with wind gales abating somewhat to level 8-9 and moving at 62-88 kilometers an hour.
The typhoon will continue moving westwards at 20 kilometers an hour and weaken into a tropical depression storm within the next 12 hours.
By 10am tomorrow morning, it will centre at 19.3 degrees north latitude and 102.5 degrees east longitude along the borders of China and Laos. Wind gales will drop to level 6, moving at less than 39 kilometers an hour.
Since yesterday afternoon, the coastal areas from Quang Ninh to Ha Tinh Provinces have seen medium to heavy rainfall. Regions from Hai Phong to Nghe An Province must remain vigilant for high tides that could rise to 3-5m.
Flood Warning:

The National Weather Bureau has warned of severe flooding in rivers along Thanh Hoa to Ha Tinh Provinces.

'Nock-Ten' typhoon is expected to cause heavy downpours from today on in Thanh Hoa, Nghe An and Ha Tinh Provinces.

From tonight on, river waters will rise to alarming levels of 1-2, causing severe flooding.

Low-lying and mountainous areas must remain vigilant for flashfloods and landslides, particularly in provinces between Thanh Hoa and Quang Binh.
 
Deputy Prime Minister Hoang Trung Hai held an emergency meeting in Hanoi yesterday where he ordered the Central Committee of Flood and Storm Prevention to dispatch officials to Thanh Hoa, Nghe An, Ha Tinh and Quang Ninh Province to monitor speedy storm-prevention work.
Mr. Hai asked local authorities to evacuate residents from danger zones beforehand, cut off unsafe tree branches and fortify homes, schools and health clinics. Evacuation of residents must be complete before 3pm today.
Local authorities in provinces expected to be affected by the typhoon fury must stock up food reserves in case they are marooned or stranded. All boats must be guided to safety and banned from going out to sea.
The Ministry of Industry and Trade should monitor hydropower plant reservoirs while the Ministry of Transport must keep close watch on boats, while preparing for any emergency rescue.
Till yesterday, 10,000 boats were still at sea in the central region, according to the flood and storm prevention center in the central and Central Highland regions.
Amongst these, Quang Ngai Province had 23 boats out with 320 fishermen near the Hoang Sa (Paracel) Islands, an area most vulnerable.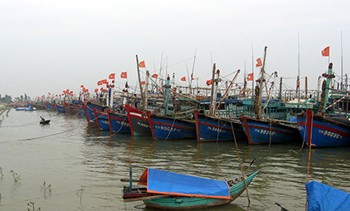 Boats docked in a shelter in Thanh Hoa Province, await 'Nock-Ten' typhoon to pass (Photo: Laodong)
Most of the boats have already been notified and the army is on alert for rescue operations.
The People's Committee of Ha Tinh Province has instructed leaders in 12 districts and towns to urgently evacuate more than 27,000 people from coastal areas and river mouths.
The People's Committee of Nghe An has also sent out directives to fortify sea and river dikes and prepare for flash floods in the mountainous areas.