Typhoon Nock-Ten has increased its fury in the East Sea from level 8 Tuesday to level 10 by 7 am this morning, moving at 89-102 kilometers an hour, the national weather bureau said.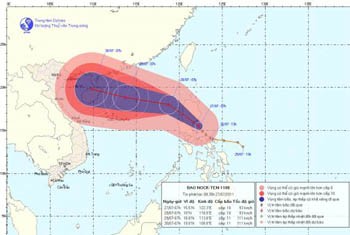 Chart shows movement of 'Nock-Ten' typhoon on July 27
Currently it remains centered at 11.5 degrees north latitude and 122.3 degrees east longitude, about 100 kilometers southeast of the Philippines' Luzon Island.
The typhoon is expected to move northwestwards at a speed of 15-20 kilometers an hour and will locate about 730 kilometers east-northeast of the Hoang Sa (Paracel) Islands by 7am tomorrow morning. Wind gales will remain unchanged.
Related article:
Storm 'Nock-Ten' intensifying towards East Sea