Typhoon Mirinae made landfall over central Vietnam on November 2, causing downpours and damaging houses, but there have been no reports of loss of human casualties.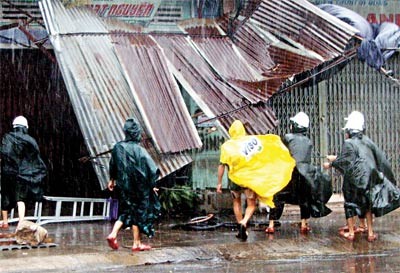 A portion of a house in Phu Yen Province that was destroyed by Typhoon Mirinae which made landfall over central Vietnam on November 2 (Photo: SGGP)
Quang Ngai Province experienced strong winds at noon. On Ly Son Island, where the typhoon made landfall, winds were measured at level 10, or 89-102 kilometers per hour. But with residents fully prepared for the storm, there have been no reports of loss of life though 40 percent of the houses have been destroyed and 40 hectares of garlic crop were wiped out. 
Two fishing boats were sunk on the Gianh River in Quang Binh Province but all nine fishermen aboard are reported safe.
The typhoon struck Phu Yen Province at 2pm. Strong winds blew off the roofs of houses and other buildings along the coast, destroyed three houses completely, injured one person, and sank one fishing boat.
In Binh Dinh Province the typhoon destroyed 17 houses, 880 hectares of crops, and blew off the roofs of 169 houses, a medical station, and 26 classrooms. Two people were injured and one is reported missing.
By 4pm provinces between Quang Ngai and Ninh Thuan had evacuated 26,000 residents to safe areas. Provinces from Quang Nam and Binh Thuan had warned and guided 18,175 fishing boats with 103,962 fishermen on board to safety.
The season's 11th typhoon brought heavy rain to most central and Central Highlands provinces since the night of November 1.
Rivers in the area between Thua Thien-Hue and Phu Yen Provinces are selling rapidly, rising to alarm levels one and two.
By early November 3 rivers in Thua Thien-Hue and the region between Quang Ngai and Khanh Hoa are predicted to rise to critical levels of three and above, and those in Quang Tri, Quang Nam, Ninh Thuan and Central Highlands provinces to level 2.