The tropical low pressure zone on East Sea is likely to turn into a storm which might approach the waters off the central coast, the National Hydro Meteorological Forecasting Center has said.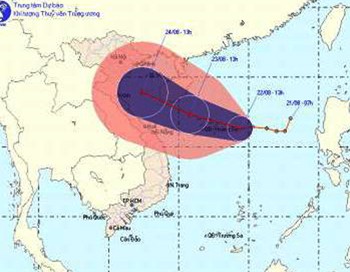 The national weather bureau's chart shows the tropical depression's path on August 22
On Sunday afternoon, the tropical depression laid centered 16.1 degrees north latitude and 113.5 degrees east longitude, about 160 kilometers east-southeast off Hoang Sa (Spartly) Islands.
The maximum sustained winds near the zone's eye reached 39-61 kilometers an hour.
Affected by the tropical depression, the country yesterday saw showers.
According to the centre deputy director Le Thanh Hai, The tropical depression would move westward at 15 kilometers an hour to intensify into a storm.
On Monday afternoon, the storm eye will be at 170 kilometers southeastward off China's Hainan Island.
Areas on the storm's path will see winds up to 89-102 kilometers an hour.
Vietnam will continue experience rains on wide areas this afternoon.