Super storm Hagupit was centered 12, 1 degrees north latitude and 124 degrees east longitude, entered in the area of Philippines's central provinces with its sustainable wind speed of level 13, gusted up to level 15-16, announced by the National Hydrology Meteorology Forecast Center on December 7.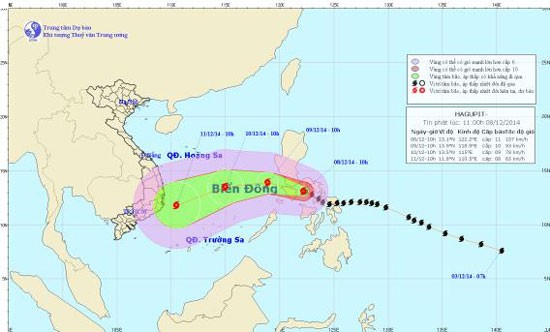 Direction of typhoon Hagupit on December 8 (Photo: the National Hydrology Meteorology Forecast Center)
In next 24 hours, the storm will move west northwestwards, at 10- 15 kilometers an hour.
By December 9, typhoon Hagupit is predicted to be located about 570 kilometers of Spratly Island's east northeastwards, at 13, 6 degrees north latitude and 119 degrees east longitude. The strongest wind near center will decrease under level 12.
Although the typhoon's sustainable wind speed has reduced sharply, it mainly moves west northwestwards and is approaching East Sea, said the region's Hydrology Meteorology Forecast Centers.
In addition, a cold front entered north and north central provinces yesterday, which caused heavy rains, thunderstorms on the large scale in coastal central provinces. Meanwhile, Gulf of Tonkin experienced level 7 northeast monsoon, gusted up to level 8, sea rough. Vietnam's mainland was shouldered by level 3 northeast monsoon.
According to Steering Center of Flood and Storm Control of central and Central Highlands region, the region's local authorities collaborated with functional forces instructed 140, 251 fishermen and 32, 451 fish vessels move safer places to deal with super storm Hagupit's complicated direction yesterday.
Currently, local border army force and fish vessel owners have kept close watch on the moment of location as well as direction of the super storm; Local authorities asked none ships and boats to go out to sea while the weather remains unpredictable.