In this early morning, the Con Co Island saw maximum sustained winds of 110-150km/h.
By 7am, its position was 17.60 degrees north latitude and 107.50 east longitude at 120 kilometers of Ngang mountainous pass. The powerful wind near the center blew at level 12- 15.
Within next three hours, the tropical storm is going to move the west- northwestward at speed of 20 kilometers an hour.
By this afternoon, this year's 10th typhoon hitting the East Sea is forecast to enter the mainland of the provinces from Nghe An to Quang Tri with its wind speed of level 11- 15.
In next 24 hours, typhoon Doksuri can hit the west- northwestward at speed of 20-25 kilometers an hour, and enter the mainland before it is predicted to be weakened into a tropical low depression in the Upper Laos.
Because of the storm influence, the territorial waters from Quang Tri to Quang Ngai including Con Co, Cham and Ly Son Islands have been seeing wind speed of level 8- 15 and sea rough.
The waters from Thanh Hoa to Quang Binh and Gulf of Tonkin suffered powerful wind of level 6- 15, sea rough and big waves.
Heavy rains will cover over provinces from Quang Ngai to Nghe An by the midnight of September 15.
Torrential rains are predicted to move to the Northern provinces on the large scale with its peak rainfall of 50- 200mm.
Flash flood and landslide are warned to appear in Hoa Binh, Son La and the north- central provinces from Thanh Hoa to Thua Thien- Hue from September 15- 17.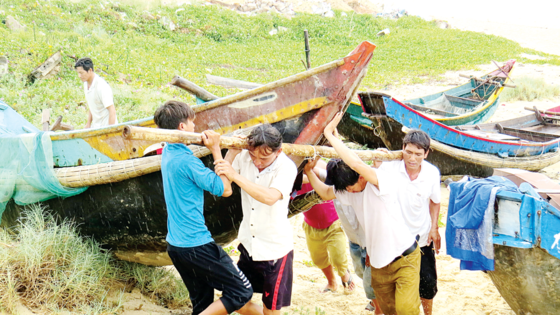 Fishermen bring fishing boats onto the seashore.

Tags: