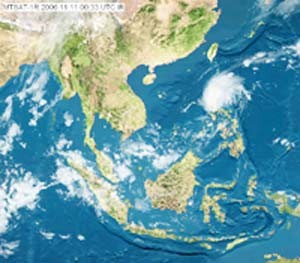 Typhoon Chebi heads towards the Eastern Sea on Saturday.
With Typhoon Chebi set to leave the Philippines and begin crossing the Eastern Sea, the Central Steering Committee for Storm and Flood Control issued a storm warning on Friday and ordered a close watch on fishing vessels out in the ocean.

All fishing boats at sea, especially around the Paracel, Spratly and nearby islands, must be warned of the coming typhoon and ground forces must be prepared for any eventuality, the committee said in an urgent message to the relevant ministries and coastal provinces.
Early this morning, Chebi was located several kilometers east of Luzon in the Philippines at 16.2 degrees north and 122.2 degrees east and was reportedly generating category 14 to 15 winds (150-183 kph) around the center.
Meteorologists predicted the typhoon would start building up and heading directly west across the Eastern Sea by Saturday evening.
Moving at 20-25 kph, Chebi is already strengthening and whipping up huge seas as it goes.
Related link: