Typhoon 'Nock-Ten' has already entered the northeastern parts of the East Sea and is about to slam the northern and central regions of Vietnam within the next two days, stated the National Hydro Meteorological Forecasting Center.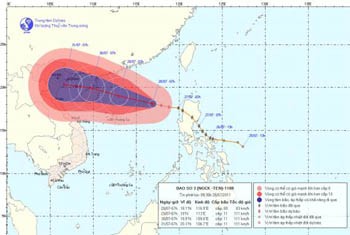 National weather bureau warns northern, central regions against 'Nock-Ten' typhoon
At 10am today morning, the typhoon was 440 kilometers east-northeast of Hoang Sa (Paracel) Islands with wind gales dwindling a wee bit since yesterday to level 9 and moving at 75-88 kilometers an hour.
Bui Minh Tang, director at the weather center said that the typhoon fury had abated somewhat after entering the East Sea but would soon intensify again to level 11 and pick up speed of 103-117 kilometers an hour.
Within the next 24 hours, the typhoon will move west-northwestwards at 15-20 kilometers an hour and gain further momentum. By 10am tomorrow, it is expected to locate 170 kilometers East of Hainan Island in China.
After hitting the Hainan Island, typhoon 'Nock-Ten' will move westwards at speeds of 20-25 kilometers an hour to batter northern and central Vietnam by Saturday. It will unleash torrential rain for two to three days, beginning Saturday night.
Deputy Prime Minister Hoang Trung Hai chaired a meeting in Hanoi yesterday to discuss ways to cope with the oncoming typhoon.
According to the department of dyke management and flood prevention, about 60,000 fishermen are still operating on the waters from Quang Ninh to Quang Ngai Province.
The Central Committee for Flood and Storm Control has instructed local authorities to help guide the boats to safety and has already sent out urgent dispatches ordering the northern and central provinces to be ready to evacuate residents when the typhoon hits the area.
In related new, meteorologists say the hot low pressure zone is still causing hot and dry weather conditions with temperatures going above 37 degrees Celsius in the central regions. Muggy conditions will linger on for the next two to three days.
The People's Committee of the central province of Quang Ngai yesterday approved an approximately VND400 billion (US$19 million) project to build a storm shelter for boats on Ly Son Island.
The project will widen anchorage area to accommodate 500 large capacity fishing boats and also upgrade the dyke system.
Construction on the project is scheduled to begin by next year.