The National Hydrology Meteorology Forecast Center reported that a tropical low pressure on November 25 developed into a typhoon named Tokage and hit the central Philippines with its strongest wind of 60- 70 kilometers per hour near the center.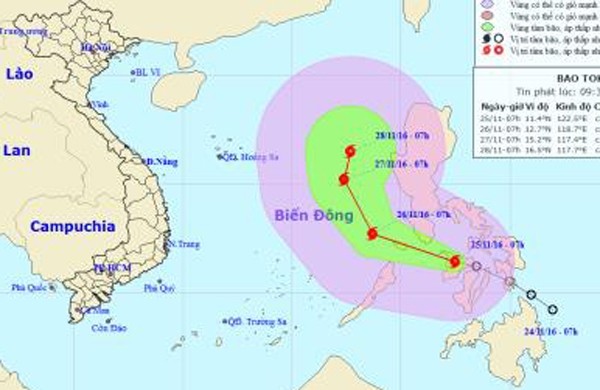 Position of typhoon Tokage in the East Sea
In past 24 hours, Tokage moved west northwestwards at 15- 20 kilometers an hour.
By 7am today, its eye was at 12.7 degrees north latitude and 118. 7 degrees east longitude at 500 kilometers of Song Tu Tay Islands. The wind gusted 60- 90 kilometers an hour.
Within next 24 hours, the damaged zone will parallel at 11. 0- 15.0 degrees north latitude and 116. 0 degrees east longitude.
After that it is forecast to move the northwest and north northwestwards. By 7am tomorrow, the typhoon will center at 580 kilometers of the Paracel Islands, at 15. 2 degrees north latitude and 117.4 degrees east longitude.
Because of its influence, the mid East Sea will see strong wind of level 6- 11, big wave of 3- 5 meters and sea rough.
Storm Tokage is predicted to move at 5- 10 kilometers per hour of north northeastward.