A tropical low pressure system forming off waters of the central region is forecast to intensify into a storm, according to the National Hydro Meteorological Forecasting Center.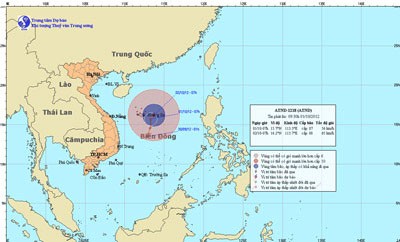 The location of the tropical low pressure system on the East Sea on October 1 (Photo: SGGP)
At 7am this morning, October 1, the tropical low pressure system was located 15.7 degrees north latitude and 113.3 degrees east longitude, 170 kilometers southeast of Hoang Sa (Paracel) Islands.
Strongest winds near the center of the system measured level 6-7 and moving at 39-61 kilometers an hour.
Within the next 24 hours, it will slowly move northwest at 5 kilometers an hour and may build into a storm. Wind gales near the eye of the storm will reach level 8 to blow at 62-74 kilometers an hour.
Affected by the tropical low pressure system, the Hoang Sa Islands are seeing rough and choppy seas with strong winds.
The Central Steering Committee for Flood and Storm Prevention on Sunday sent a dispatch to coastal provinces and cities from Quang Binh to Ba Ria-Vung Tau, asking them to closely watch out for the tropical depression, to keep regular contact with boats, and prepare rescue teams for emergency situations.