Super-typhoon Haiyan on early November 11 made landfall in northern Vietnam, causing heavy rains and strong wind in the region.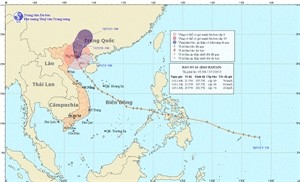 Super-typhoon Haiyan lands in northern Vietnam on early November 11.
As of 5 am on November 11, the storm, packing winds of between 62 to 88 km per hours, was at latitude 21.3 degree north and longitude 107.2 degree east, with its centre in northern Quang Ninh province.
Torrential rains of 109-137mm were recorded in northeastern provinces, especially Hai Phong and Quang Ninh.
No casualty in the storm has been reported so far thanks to good preparations.
In the next 12 hours, Haiyan is forecast to move northward at a speed of 15-20 km per hour, heading to south China and weakening to a depression.-VNA