Latest news from the National Hydro Meteorological Forecasting Center has warned of Super Storm 'Haiyan' swiftly approaching the East Sea.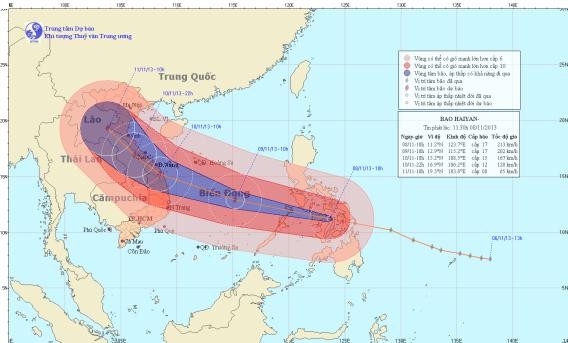 The direction of Super Storm Haiyan. (Photo: www.nchmf.gov.vn)
By 7am on Friday, the storm was located 11.0 degrees latitude north and 124.8 degrees longitude east, near the central part of the Philippines with maximum wind speeds above 221 kph.
In the next 24 hours, the storm will move quickly west and north-westwards at 35 kph. By 7am on Saturday, the storm will be centered at 12.8 degrees latitude north and 115.6 degrees longitude east, about 270 kilometers east-northeast of Song Tu Tay Island (Southwest Cay) of the Spratly Islands, packing strong winds with gusts above level 17.
Within the next 24 to 48 hours, the storm will continue to move west-northwestwards at speed of 30-35 kph. By 7am on Sunday, the storm will be located 14.6 degrees latitude north and 109.7 degrees longitude east, on waters off provinces from Thua Thien-Hue to Binh Dinh with strong wind speeds of level 15-17.
Within the next 48 to 72 hours, the storm will keep moving west-northwestwards then may change direction towards northwest at speed of 30 kph.
Due to the storm, from Friday evening, eastern waters of the East Sea will see strong winds strengthening to level 9-11, then to level 13-14, and subsequently to level 16-17 in areas where the storm will pass.
Prime Minister Nguyen Tan Dung on Thursday sent a message to local authorities and relevant ministries to give instructions to deal with Super Storm 'Haiyan'.
Accordingly, the Prime Minister has ordered coastal provinces to keep close watch on the developments of the storm, inform and call all boats that are out fishing, to return to safe shores; and provinces from Thanh Hoa to Binh Dinh to closely monitor operations of fishing boats inshore and at river mouths, and prevent boats from heading for open seas on November 11, depending on situation.
He ordered authorities to guide fishermen to dock their boats safely and take measures to protect floating fish farms and prevent anyone from staying on boats and floating fish farms. Local authorities should be ready to evacuate residents out of danger zones. All these measures need to be implemented before 1pm of Sunday.
He ordered the Ministry of Agriculture and Rural Development to check and implement measures to fortify dykes and protect irrigation dams; the Ministry of National Defence to direct and call boats that were still out at sea to safer havens, evacuate residents, and prepare rescue forces; the Ministry of Public Security to coordinate with the Ministry of Transport to adjust traffic on National Highway 1A and Ho Chi Minh Highway; the Ministry of Transport to inform ships and vessels about the direction and development of the storm, ensure safety of traffic on road, waterway, railway, and airway, and prepare vehicles and material to timely deal with any incidents.