After entering east-northeastern waters of Truong Sa Islands (Spratly Islands) early this morning, Super Storm 'Haiyan' weakened to some extent, according to the National Hydro Meteorological Forecasting Center.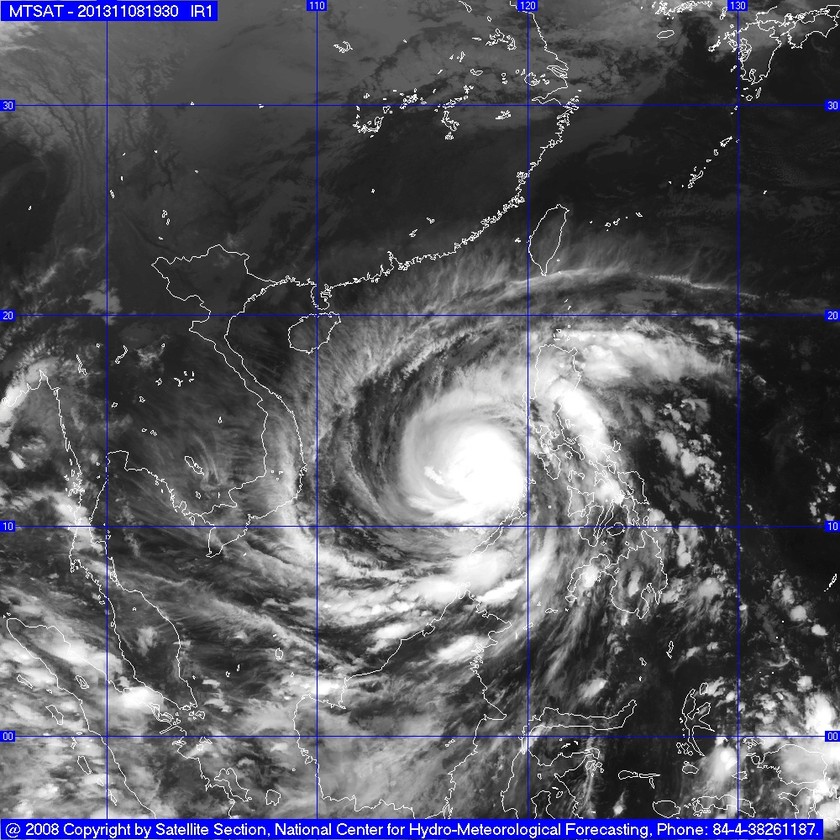 Satelllite photo of Super Storm Haiyan. (Photo: www.nchmf.gov.vn)
By 7am on Saturday, the storm was centered at 12.5 degrees latitude north and 116.7 degrees longitude east, about 290 kilometers east-northeast of Song Tu Tay Island (Southwest Cay) of the Spratly Islands, packing strong winds of level 14-15 with gusts above level 17.
In the next 24 hours, the storm will move mainly west-northwestwards at a speed of 30-35 kph. By 7am on Sunday, the storm will be located at 15.3 degrees latitude north and 109.5 degrees longitude east, on waters off provinces from Quang Tri to Binh Dinh, with maximum wind speeds of level 14 and gusts of level 16-17.
Within the next 24 to 48 hours, the storm may change direction towards northwest, moving along the central provinces at 25-30 kph. By 7am on Monday, the storm will be at 19.1 degrees latitude north and 104.7 degrees longitude east, on regions of north central coast, wrapping strong winds of level 9-12.
In the next 48 to 72 hours, the storm may change direction to move north-northwest at 15 kph then gradually weakening into a low pressure zone.
Due to the storm, central waters of the East Sea, including Truong Sa and Hoang Sa Islands, will face strong winds of level 10-15 and gusts of above level 17 and see rough seas.
From tonight, southern regions of the Gulf of Tonkin and waters off provinces from Quang Tri to Binh Dinh, including Ly Son and Con Co Islands, will see strong wind speeds of level 8-9, then to level 10-11, and subsequently to level 12-14 with gusts up to level 15-16 in areas where the storm will pass. Provinces from Binh Dinh to Nghe An will face strong winds of level 8-9 with areas near the eye of the storm seeing wind speeds of level 12-15. Provinces in southern region of Hong River Delta and Thanh Hoa will have winds gradually strengthening to level 6-8.
Central coastal provinces will have heavy rain and thunderstorms from this evening, then the rain will spread to north central coast and northern provinces. Coastal regions and islands from Quang Ngai to Nghe An should remain alert of water levels rising due to flood tide up to 4-6 meters and high waves of 5-8 meters.
From tomorrow, the Gulf of Tonkin will see strong winds of level 7-9.
According to the Central and Central Highland Steering Committee for Flood and Storm Prevention and Control, by evening of Friday, more than 40,000 boats of fishermen in central provinces had returned to safe shores. However, 71 boats with 576 fishermen were still in the northern region of the East Sea. Seven fishing boats of fishermen in Khanh Hoa, Binh Dinh, and Da Nang Provinces which had met with accident at sea in the past two days have been rescued and towed safely to shore.
About 150,000 households with nearly 700,000 residents will be evacuated from Quang Binh to Quang Ngai Provinces when the storm makes landfall. Until now, due to the tropical low pressure system, nearly 150 houses have been damaged, two people have been killed, and three are reported missing.
By 5am on Friday, there were 15 hydro-power dams releasing water in central and central highland provinces, of which eight dams were releasing water at 500 cubic meters to 4,400 cubic meters per second.