According to weather experts, the weather phenomenon El Nino is warned to appear and affect directly to Vietnam's weather condition from September, 2015 to February, 2016.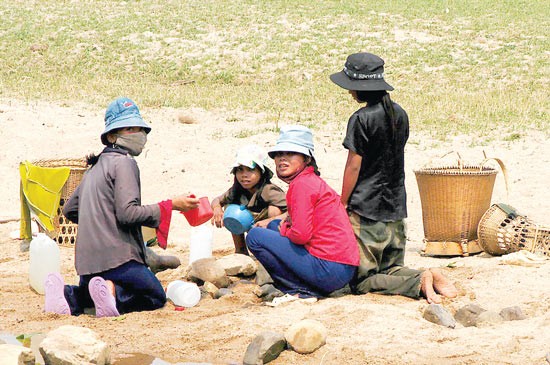 Serious water shortages have experienced in the north and north-central provinces. (Photo: SGGP)
Vice Director of the National Hydrology Meteorology Forecast Center Le Thanh Hai presented an exclusive interview to a reporter from Saigon Giai Phong Newspaper about related information.
Mr. Hai said: " the world's hydrology meteorology forecast centers predicted sea surface temperature near the area of  the equatorial Pacific is increasing sharply, and it will reach at 2, 1- 2, 3 degrees Celsius at the end of the year". 
As the latest news from the centers, this year's weather phenomenon El Nino presence will be strong, equal to the record-setting phenomenon El Nino of 1997-1998.
On August 27, the Central Hydrology Meteorology Forecast Center held a press conference to issue forecast about weather condition this year. Accordingly, around 6- 7 storms and tropical low pressure will be able to enter East Sea. Of these, around 2- 3 storms and tropical pressures will affect directly Vietnam's weather.
From September, 2015 to February, 2016, the temperature will increase at 0, 5- 1, 5 degrees Celsius nationwide. In the winter of 2015- 2016, nationwide will enjoy the warm weather and little damaged cold.
Because of influence of EL Nino, the rainfall in the central provinces of Vietnam is predicted to  swing between 50- 70 percents; meanwhile, the rainfall in the Central Highlands and southern regions will be 20- 50 percents lower than average levels.
The dry season of 2015- 2016 has been threatened by salt water influx in the southern and northern region because of the influence of rising tide. It caused 40- 45 percents water shortages on Red River.