Cao Duc Phat, head of the National Steering Committee for Flood and Storm Prevention and Control, said that forecasting storms has become much more difficult due to factors such as climate change.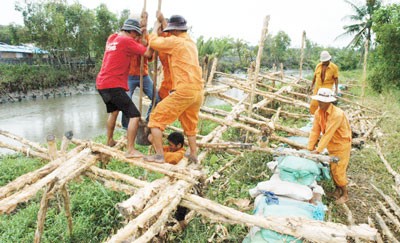 Workers fortify a section of a dyke in HCMC (Photo: SGGP)
Earlier, storms usually took place in the second half of the year. However, last April saw frequent storms and the beginning of this year saw tropical depressions.
Climate change has upset former natural laws. Previously, the northern region was usually hit at the beginning of the storm season while the southern region was lashed towards the end of October and November.
Storms now are unlikely to follow the old pattern again. Typhoon Pakhar hit the southern region at the end of March last year. Typhoon Son Tinh battered the northern region in October last year, causing much damage to Nam Dinh and Thai Binh Provinces and Hai Phong City.
According to the National Steering Committee for Flood and Storm Prevention and Control, natural disasters have become more severe and unpredictable resulting in extensive and widespread destruction in the last five years.
In 2008-2012, total damage was calculated at VND74 trillion (US$3.55 billion), accounting for 1.48 percent of Gross Domestic Product (GDP) in a year. This ratio was less at only 1.08 percent five years back.
The worst natural disaster was recorded in 2009 which accounted for 2.47 percent of GDP.
According to the National Hydro Meteorological Forecasting Center, there will be about 11-13 storms and tropical depressions on the East Sea this year, of which 5-6 will affect Vietnam directly.
Drought and salt intrusion will broaden in the southern region until the end of April and the rainy season is expected to begin by early May.
The National Committee for Search and Rescue say they are already preparing to launch their second rescue vessel with a helicopter on board. The vessel will be able to cover an area of 2,000 square sea miles from shore. The committee is now planning to build another six such rescue vessels.