Storm 'Nock-Ten' is steadily intensifying in fury across the northwest Pacific Ocean and expected to cause stormy weather conditions on the East Sea by tomorrow morning.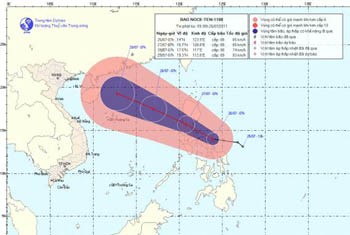 Chart showing direction of the 'Nock-Ten' storm
The National Hydro Meteorological Forecasting Center said that at 7 am this morning the typhoon was centered at 14 degrees north latitude and 123.9 degrees east longitude. Strong winds close to the center of the storm peaked at level 8, moving at 62-74 kilometers an hour.
The storm is expected to move west-southwestwards at 15 kilometers an hour and may strengthen and intensify its fury within the next 24 hours.
The intensive fury of the storm will affect the eastern part of the East Sea, causing rough and choppy waters with gales up to level 7-8 moving at 50-74 kilometers an hour from early tomorrow morning.
The combined fury of the storm and the southwesterly winds will create strong winds and thunderstorms across the mid and southern parts of the East Sea.