Storm 'Krosa' is moving at an extremely fast pace towards the central region and by evening of October 31 it had already entered the northern parts of the Luzon Islands of the Philippines, according to an emergency forecast by the National Hydro Meteorological Forecasting Center.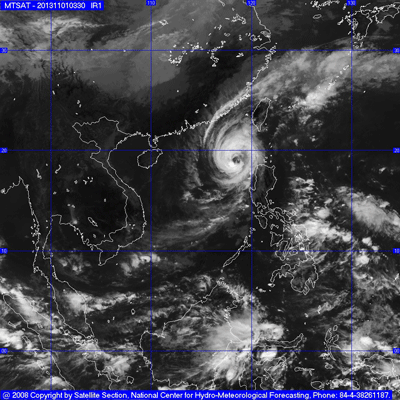 The direction of the storm 'Krosa' (Photo:The National Hydro Meteorological Forecasting Center)
On evening of October 31, the storm was located northeast of Luzon Islands at longitude 18 degrees north and latitude 123.1 degrees east. The strongest winds near the center of the storm were at level 11-15.
According to weather forecast, the storm will enter the East Sea and directly affect the weather over northern territorial waters of the East Sea by November 1.
Within the next 24 hours, Storm 'Krosa' will move west northwestwards at 20km per hour. Until the evening of November 1, the storm will be located 630 kilometers east northeast of Paracel Islands with wind speeds remaining the same.

On the evening of October 31, authorities in the central coastal provinces had asked ship owners to move all vessels to safer locations to avoid the fury of the storm.
Until now, around 60,000 boats and 300,000 fishermen had moved to safer shores. However, 180 boats and 1,747 fishermen were still out on territorial waters of Binh Dinh, Da Nang, Quang Ngai and Quang Nam Provinces.