Districts 4, 5, 7, 8, and Nha Be in HCMC experienced heavy rains on April 16. Other southern provinces including Tay Ninh, Kien Giang, and An Giang also experienced heavy rain.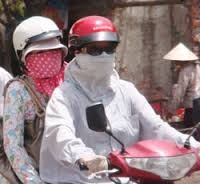 (Photo: SGGP)
The provinces had 100 mm of rainfall recorded, according to the Southern Hydro Meteorological Center.
The majority of the record resulted from scattered thunderstorms, said Nguyen Minh Giam, the center's deputy director.
The rain is due to a cold front from the north travelling south to the hot humidity, said Giam. The hot current with low pressure caused heavy rain and thunderstorm in some regions.
The region will be experiencing clear weather with a heat wave, according to the forecast. Provinces are expected to experience temperatures of 37-39 degrees Celsius. Western provinces will experience a 2 or 3 degree drop in temperature.
The rainy season is expected to start at the end of April or the beginning of May. Coastal provinces including Kien Giang, Cau Mau and southeastern provinces will experience heavy rain.
This year's rainy season will commence later than last year. Average rainfall is also expected to be lower.