A severe hailstorm in Da Lat City in the Central Highlands on May 7 caused much damage to vegetable and flower crops, collapsed several green houses, and left losses in billions of dong for local farmers.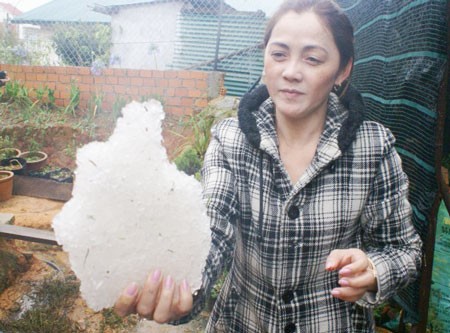 Woman holds ice block of hailstones (Photo: SGGP)
The worst hit area was along Tran Quang Khai Street in Ward 8, where the 15 minute hailstorm accompanied by a 45 minute cyclone left behind much destruction.

Thumb size hailstones piled high across large vegetable and flower fields.

Nguyen Duc Phuong, a local man, said that he has lived on Tran Quang Khai Street for some decades but has never witnessed such a hailstorm.

Nguyen Thi Tuyet Mai, whose house is on the same street, said she had completely lost 7,000 square meters of vegetable crop which was ready for harvest. Nearby, a 2,500 square meter glasshouse belonging to Nguyen Tien Duc collapsed under the hail.

The Steering Committee for Flood and Storm Prevention in Da Lat City are now working with the People's Committee in Ward 8 to survey the extent of the damage to start on repair work.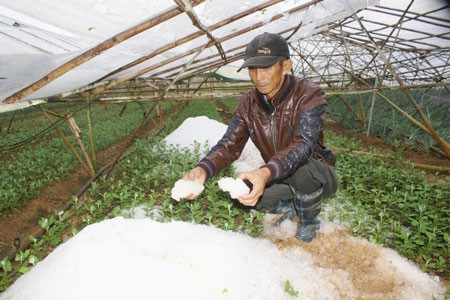 Hailstones piled in a greenhouse (Photo: SGGP)
In related news, a short burst of rain caused flooding in several streets in Ho Chi Minh City on afternoon of May 7.

Hoa Binh Street in front of Dam Sen Park was inundated in knee-deep water causing chaos and traffic congestion, with also several motorcycles breaking down in mid-road.

Similar conditions prevailed in Dong Den, Au Co and Bau Cat Streets and surrounding alleys in Tan Binh District.

The severe flooding in these area was because floodwater could not flow into the Tan Hoa-Lo Gom Canal, where has been blocked because of an ongoing cleanup project.