Ho Chi Minh City and the southern provinces of Binh Phuoc, Dong Thap will experience rains and whirlwind over the next few days, due to seasonal shifts and a low pressure front of tropical heat due to move in from the west, said a meteorologist.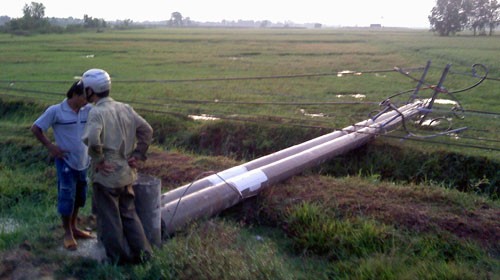 An electricity post toppled due to rain and whirlwinds on May 20 (Photo: Tuoi tre)
Le Thi Xuan Lan, deputy head of the Southern Meteorology and Hydrology Forecasting Center, said there will be increased rainfall in the coming days.
It has rained recently in the Mekong delta province of Kien Giang and Ca Mau; other provinces will experience rain after May 25, Lan predicted, adding that the temperature will therefore decrease around by about 4 degrees Celsius, down from present temperatures that have climbed as high as 37.6 degrees Celsius.
On May 20, an electricity post fell down due to rain and strong winds in commune Trung Lap Thuong in Ho Chi Minh City's district Cu Chi. The accident caused electricity power cut.