'Nock-Ten' typhoon is heading full throttle towards the north of Vietnam and is expected to touch as close as 320 kilometers off the east coast of Thai Binh and Nghe An Provinces by tomorrow morning.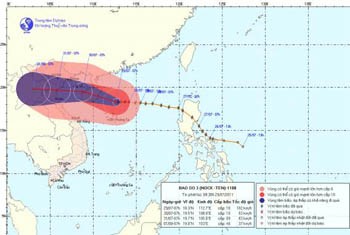 Typhoon 'Nock-Ten' heading towards North Vietnam
According to the national weather bureau, this is the third intensive typhoon to hit Vietnam this year.
By 7am this morning, the typhoon was centered at 18.3 degrees north latitude and 112.7 degrees east longitude, about 180 kilometers north of the Hoang Sa (Paracel) Islands.
Gales at the centre of the typhoon reached levels 10-11 moving at 89-117 kilometers an hour. Wind speeds touched levels 12-13.
Within the next 24 hours, it is expected to move west-northwestwards at 15-20 kilometers an hour. By tomorrow morning, the typhoon will trigger heavy rains in the northern regions and in the northern parts of the central region. The rainfall of minimum 300-400mm is forecast to prolong for at least four days from July 30 to August 2.
By Sunday morning, 'Nock-Ten' may touch the northern coastal provinces with its epicenter near Ninh Binh and Thanh Hoa Provinces.
Meanwhile, a new storm is brewing east of the Philippines named 'Muifa', which may influence the direction of the 'Nock-Ten' typhoon.
The Central Committee for Flood and Storm Control said that the army had been notified and 25,000 boats were on stand-by on the waters along Quang Ninh to Quang Ngai Province.
Since yesterday, over 17,000 fishermen are still reported out at sea in waters of the Hoang Sa (Paracel) Islands and Truong Sa (Spratly) Islands.
Cao Duc Phat, Minister of Agriculture and Rural Development said that local authorities must inform all boats to move towards the mainland or to the southern waters to avoid the storm fury.
He also instructed relevant authorities to implement measures to save rice crops from flooding. The committee for flood and storm control and the Ministry of Industry and Trade should work together on securing hydropower plant reservoirs.
One fishing boat with 11 people on board from Quang Ngai Province was lashed into the waters by high sea waves near the Truong Sa Islands yesterday afternoon. Fortunately, all were rescued by a Philippine fishing boat.