According to the National Hydro Meteorological Forecasting Center, many new storms are starting to brew in the East Sea even while Storm 'Krosa' continues to move rapidly towards the waters of Paracel Islands in the East Sea.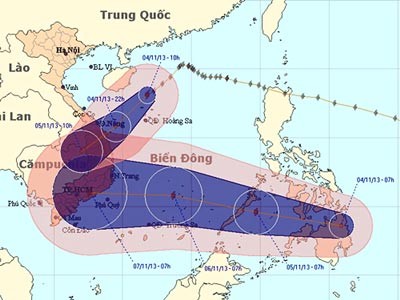 The directions of the new storms (Photo: National Hydro Meteorological Forecasting Cente)
On the afternoon of November 4, a new tropical low pressure system entered the East Sea. The low pressure system was located in the southern Philippines at longitude 9 degrees north and latitude 125 degrees east with the strongest winds near the center of level 6-8.
In last 24 hours, the low pressure system moved fast towards west northwest at 25 km per hour. Later, the tropical low pressure system turned into a new storm with an unsure direction.
According to the latest weather bulletin, by the night of November 4, Storm 'Krosa' downgraded into a tropical low pressure system but was still moving northwest towards the coastline from Da Nang to Binh Dinh Province.
On November 5, the tropical low pressure system will make landfall in Da Nang and Binh Dinh Province with speed of 30 km per hour. Later it will move towards the southern part of Laos. The weather in the central and southern provinces will be affected during this time.
Another Storm named 'Haiyan' has just begun to form in the eastern parts of the Philippines.