In the first nine months of the year, 229 people have been reported dead or missing from natural disasters in the country, with 355 said to have suffered injuries as a result.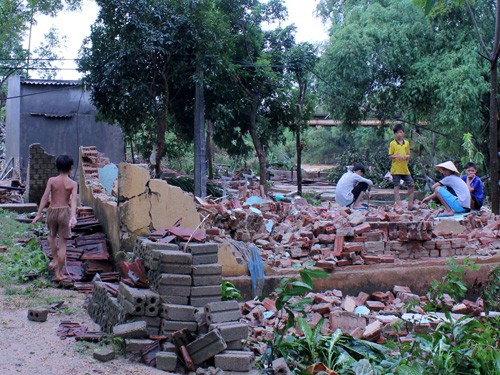 Flood sweep away many houses in Lang Chanh District in the northern province of Thanh Hoa
According to the General Statistics Office, total damage caused from natural disasters in the first nine months of 2012 was almost  VND3.2 trillion (US$154 million).
According to estimates made by the above office, 2,200 houses were destroyed, 53,700 others faced damaged roofs, 38,700 hectares of rice and 8,500 hectares of other crops were obliterated and almost 145,000 hectares of rice and 29,600 hectares of other crops were submerged under floodwaters.
On October 5, the Prime Minister released VND162 billion (nearly $8 million) from the state budget to support 13 provinces and cities that were devastated by natural disasters.
The amount was distributed to families of dead or injured victims of flooding, storms and whose houses had been swept away or collapsed. Part of the fund was also used to repair and reconstruct basic infrastructure in towns and villages.
The PM also asked the Ministry of Finance to advance an amount of VND16 billion to residents in the northern provinces of Phu Tho and Vinh Phuc to replant tree and raise new animal herds.
Nghe An Province was the hardest hit, with 12 people reported dead or missing and 19,000 hectares of rice and other crops totally ruined, bringing losses of VND850 billion ($41 million) or 27 percent of the entire calculated damage in the country during this period.