The Ministry of Industry and Trade has just completed a report to Prime Minister Nguyen Xuan Phuc about flood release from the Ho Ho Hydropower Plant impacted to flood increase in the Ha Tinh and Quang Binh province in the recent time.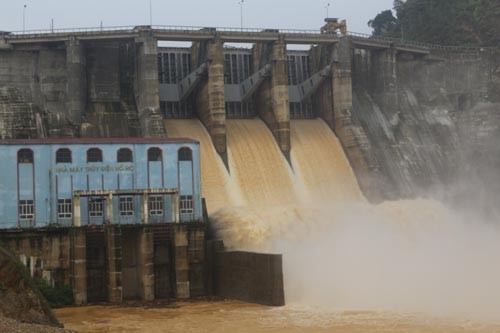 The Ho Ho Hydropower plan has not fulfilled flood release process. (Photo: SGGP)
According to the report, the long- lasting heavy rain caused serious flooding and damages in the north central provinces from Nghe An to Thua Thien- Hue on October 13- 16. In addition, the flood release from Ho Ho Hydropower Plant caused water increase in the lowland areas at 192 meters cubic per second at 5: 30 pm on October 14 to 2 am on the next day.
The flood discharge in emergency situation is completely suitable with reservoir operation process aiming to avoid serious incidents for the lowland areas; however, the Ho Bon Hydropower Joint Stock Company, an investor of the Ho Ho Hydropower Plant has not fulfilled the operating regulations for providing announcements to relevant agencies in order to ensure safety for the flood season.
After this incident, the Ministry suggested the People's Committee of Ha Tinh and Quang Binh province to evaluate and review anti- flooding measures for the lowland areas around the power plant, and disclose responsibilities of relevant individuals and agencies about the previous flood disaster.
The Industry and Trade Ministry also suggested administrative sanction for the Ho Bon Company. In case of repeating, the ministry will consider revoking the operation license of the Ho Ho Hydropower Plant due to reservoir non-ensuring.

The Electricity Group of Vietnam and the North Electric Power Corporation asked the Ho Bon Company to review mistakes of related individuals and units for the incidents, and correctly implement the plant's operation process pursuant to a decision No. 2365/ QD – BCT.