The tropical depression on East Sea has intensified into a tropical storm with international name " Mindulle ", which is forecast to approach the northern central coast Tuesday afternoon.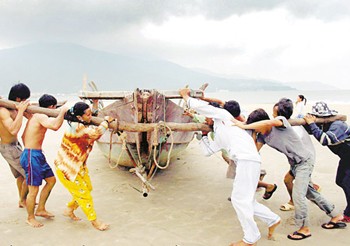 Central residents move a boat to safety to stave off damage by the coming typhoon Mindulle (Photo: SGGP)
On the day's early morning, Mindulle ( the third storm of Vietnam this year ), was centered just 80 kilometers east off the central coast. It was moving westward at 15 kilometers per hour and caused torrential winds up to 75-102 kilometers an hour.
Areas around the typhoon's center experienced gusts up to 103-133 kilometers an hour.
According to Bui Minh Tang, director of the National Hydro Meteorological Forecasting Center, the powerful storm will cause floodings in the provinces from Thanh Hoa to Quang Tri, bringing downpours to the areas in the next few days.
The storm will continue causing heavy rains, which have occurred over the past few days in the central region, Minister of the Agriculture and Rural Development Cao Duc Phat said at a meeting held in Hanoi yesterday to discuss measures to deal with the third storm.
Localities should be ready to cope with the storm devastation, Minister Phat warned, adding they should keep watch of inundation in low-lying areas and landslides in mountainous regions.
Deputy Prime Minister Hoang Trung Hai, who also chaired the meeting, ordered local authorities prepare food and medicines ready to conduct relief aids in places, prone to be stranded by floodwaters.
Affected by the typhoon, central coastal provinces on Monday evening had medium to heavy rains with the average rainfall of 500-100mm, according to the national weather service.
Meanwhile, the flood and storms prevention center for central and Central Highlands regions, reported that as of Monday afternoon, about 1,214 fishing boats with nearly 9,300 fishermen were still at sea in the central region.
Central farmers have raced to harvest the summer-autumn rice to avoid storm-triggered floods.
In Quang Ngai Province's Mo Duc District, residents have harvested over 700 hectares of rice on Monday's noon while over 100 hectares in Duc Phong Commune were still submerged by flooding due to continuous rains in the past few days.
In Thua Thien-Hue Province, thousands of hectares of rice have also been inundated in floodwaters. Local residents have harvested 8,000 of about 26,000 hectares of summer-autumn rice fields.