A low-pressure system developed in the area of the Hoang Sa (Paracel) Islands May 26, creating a powerful thundercloud zone.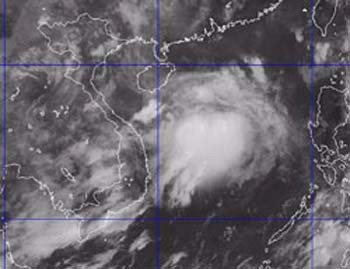 A low-pressure system develops off Hoang Sa Islands on East Sea (Photo: the national weather bureau)
The National Center for Hydro – Meteorological Forecasting said that at 7am of the day, the low-pressure system centered between 16-18 north latitude and 114-116 west longitude.
It was slowly moving north at a speed of 5 kilometers an hour.
Affected by the low-pressure system circulation, the northern part of the East Sea including the Hoang Sa Islands saw strong winds, up to 39 kilometers an hour. Seawaters were rough with showers and thunderstorms.
According to Le Thi Xuan Lan, from the Southern Regional Hydro-meteorological Center, the low pressure system together with southwestern winds, which is gradually stronger in the southern region, would bring the area more rains on the next few days.