Rise of water level on Hong River destroyed vegetable and flower crops.

Because the water level raised rapidly, local people could not cope with the natural disaster.
According to the Lao Cai City's Hydrology Meteorology Forecast Center, the huge flood following long- lasting heavy downpours hit upper sources of Hong river.
Mr. Luu Minh Hai, Director of the Hydrology Meteorology Forecast Center said that wind convergence in combination with current wave of chilling temperature from the northern region resulted an outbreak of small- medium rains and thunderstorms on the large scale.
The rainfall recording in the northern mountainous areas maintained 20-40 mm, especially Lao Cai City received 48 mm of rain, Ta Van (Sa Pa) reached 60 mm and Sa Pa Town gained 81 mm.
The current cold weather condition and fog warnings in mornings are predicted to affect to traffic operations.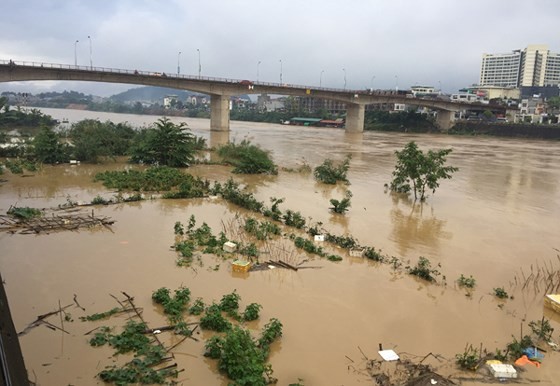 Lao Cai City suffers huge flood following heavy downpour (Photo: Lao Cai.vn)
Tags: