A low pressure trough is sweeping through central Vietnam, bringing monsoon rains to the south, the southern meteorological office said July 21.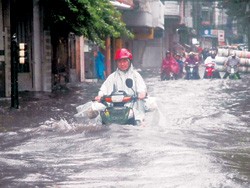 Heavy rain caused flooding in Ho Chi Minh City on July 20. (Photo: Thanh Nien)
The low pressure and intense southwest winds brought long spells of heavy rain to the south yesterday, with medium to heavy rains expected to continue in many parts of the region. 
In the coming days, the south will see mixed weather, with periods of sun in the morning and increasingly heavy rains in the afternoon and evening.
The office has predicted that the weather will become more dangerous, bringing thunder storms to the region. 
The office has also issued a storm warning to boats, with low pressure off the coast of the Philippines increasing in intensity over the next 48 hours, resulting in treacherous conditions on the seas.