The current scorching heat in the northern region reached peak temperatures above 40 degrees celsius in several places on May 16, according to the National Hydro Meteorological Forecasting Center.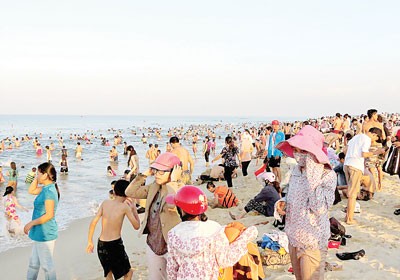 Residents flock to the beach to escape the scorching heat in the central region (Photo: SGGP)
Temperatures increased to 40.1 degrees in Ba Vi District in Hanoi and 40.2 degrees in Vinh Yen District in Vinh Phuc Province in the northern region.
Mercury rose to 40.2 degrees in Nhu Xuan District in Thanh Hoa Province and 40.5-40.6 degrees in Tuong Duong and Quy Hop Districts in Nghe An Province in the north-central region.
The above heat wave is the first this year in the northern region and the fourth in the central region.
Today, May 17, showers and a thunderstorm are likely to occur by late afternoon. Highest temperatures will be 34-36 degrees celsius. Rain will make night time temperatures cooler.
Weather will remain cool until next week when more rain will roll into the northern region.
In related news, the Ministry of Agriculture and Rural Development has decided to establish a drought-relief team to tackle the widespread drought in the central region and central highlands.
The group will build measures to regulate water from reservoirs nationwide for rice production and running of hydropower plants, and also send officials to examine local operations to cope with drought and salt intrusion.
Related articles:
Hanoi reeling under heat wave
Temperatures continue to rise in North, Central Vietnam