Le Thanh Hai, deputy director of the National Hydro Meteorological Forecasting Center, said that Hanoi is currently reeling under the first heat wave of the summer season this year, with average temperatures reaching 35-36 degrees celsius.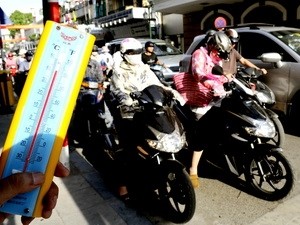 The northern region is reeling under a heat wave (Illustrative photo: VNA)
Several places in the northern and central regions have also seen mercury soar, like in Thanh Hoa, Nghe An and Ha Tinh Provinces.
Highest temperatures were recorded in Hoa Binh Province with 38.8 degrees, Nghe An Province with 37.9 degrees and Hue City with 37.8 degrees celsius.
The heat wave is the result of a westerly hot low pressure zone combined with hot and dry southwesterly winds.
The hot low pressure zone is now moving towards the southeast to cover more places in the northern plains, midland areas and the central region.
Temperatures will escalate up to 36-38 degrees celsius or even 39 degrees in several places.
This heat wave is expected to prolong for the next two to three days.