According to the Central Hydrology Meteorology Forecast Center, flood level has rapidly increased in the local rivers of Ha Tinh, Quang Binh and Quang Tri this morning.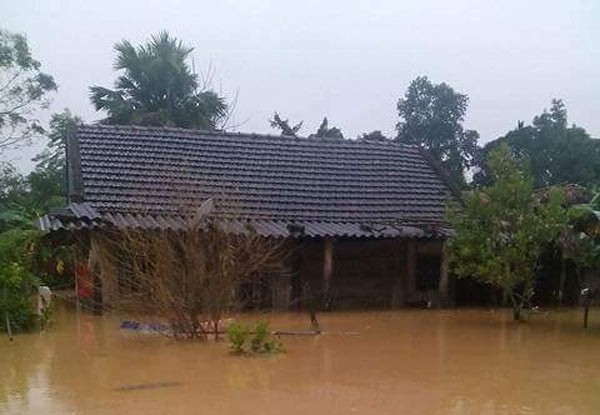 Many localities are entirely isolated by severe flood tis morning.
Huong Son, Huong Khe, Vu Quang, Cam Xuyen and Duc Tho district of Ha Tinh, and Minh Hoa, Tuyen Hoa, Bo Trach, Quang Trach, Le Thuy district and Ba Don Town of Quang Binh were flooded at 1- 2.5 meters 

By this afternoon, water level on Gianh river increased by 8. 5 meters, 2. 6 meters on Kien Giang river, and 2. 9 meters on Quang Minh river.

Currently, flood level continues rapidly rising and could cause severe flash flood and landslide in small streams and low areas.

In past three days, the highest rainfall in Quang Binh province was measured at 150- 220 mm, reaching at the alarm level 3.

The residents in Quang Trach district and Ba Don town were entirely isolated by floodwaters.

People's Committee Chairman of Quang Hai commune Cao Xuan Ngoc said that a dyke system was flooded at 0. 8- 1.5 meters. Many families had to move their properties and animals to the communal health centers. All schools allowed absence of pupils from October 31.

Water poured into 1, 020 houses living along Gianh river in Quang Trach district. Of these, there were 550 houses in Truong Xuan, Truong Son, Long Chau, Trung Tien and Hau Thanh village of Phu Hoa commune flooded at 0. 7- 1.2 meters water.

A five minutes cyclone and heavy rains swept through Quang Binh's Le Thuy district which blew off 100 roofs of houses, many oldest trees and vegetable crops this early morning. 

After the natural disaster, the functional forces quickly cleaned uprooted trees and helped residents to repair their houses.

In Ha Tinh province, the flood increase from upstream rivers in companied with water release of the Ho Ho Hydropower Plant caused serious flood in lowlands of Huong Khe district this morning.

Director of Education and Training Department of Ha Tinh province Nguyen Xuan Truong reported that localities have been entirely isolated by flood and discharge release from water reservoirs and hydropower dams.

More than 30, 000 pupils were allowed the absence from 84 schools due to the bad weather condition.
There are some photos about this early morning weather condition paused by Sai Gon Giai Phong Newspaper: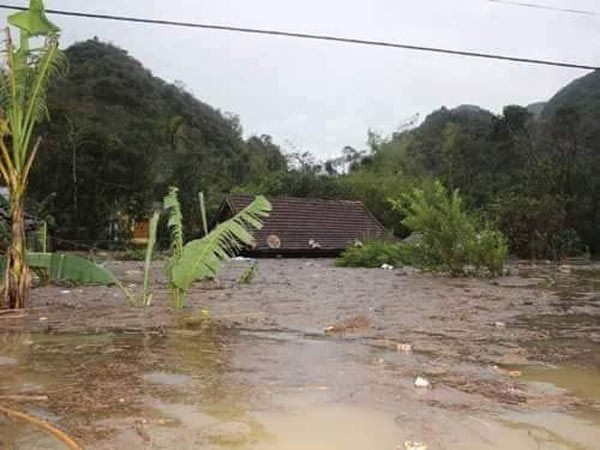 Houses were flooded by over  2. 5 meters.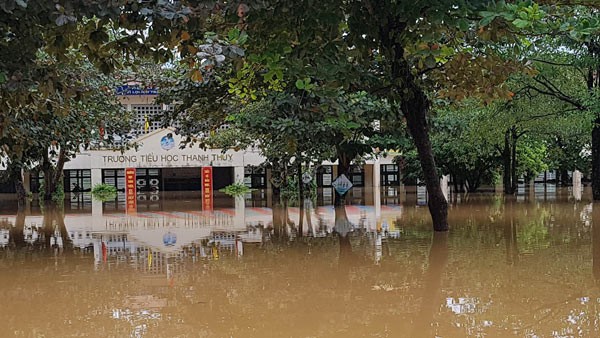 All schools allow pupils the absence due to flood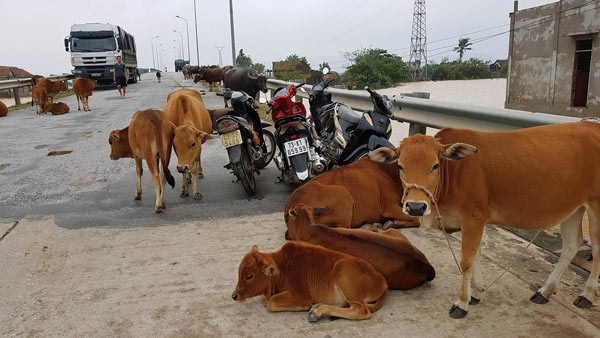 Animals and properties are moved to higher areas.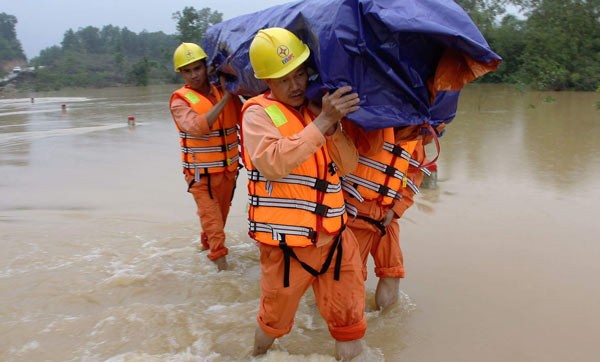 Funtional force moves resident's properties to safety area.