The National Hydro Meteorological Forecasting Center has warned of the occurrence of a flood crest in early October in the Mekong Delta, when floodwaters will surge to abnormal levels across the region.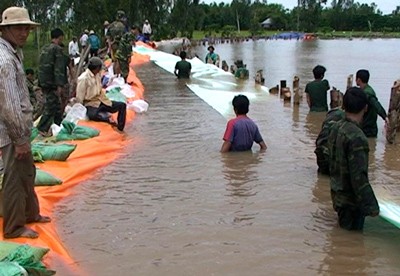 Soldiers and residents fortify a dyke section in Hong Ngu District in Dong Thap Province (File photo: SGGP)
The flood crest might approximate the historical flood in 2000, which killed 539 people and forced 62,000 households to evacuate.
The eight worst affected provinces include An Giang, Dong Thap, Long An, Vinh Long, Tien Giang, Hau Giang and Kien Giang and Can Tho City, where authorities are examining residential areas and schools along canals and riverside areas to relocate residents from danger zones.
They are also focused on pumping out floodwater to save tens of thousands of hectares of rice which is under floodwater over the last two weeks.
Cao Duc Phat, minister of Agriculture and Rural Development, has instructed the General Department of Irrigation to work with provinces to implement measures to cope with the flooding and strengthen the dyke system in frequently flooded areas in Dong Thap, An Giang, Tien Giang and Vinh Long Provinces.
According to the Agriculture and Rural Development Department in Phung Hiep District of Hau Giang Province, several sugarcane fields have been inundated due to the long lasting rain.
Farmers have been able to harvest only 2,000 out of 9,000 hectares. Unfortunately for the farmers the sugar plants have announced a reduction of VND50 a kilogram on sugarcane from September 25.