The powerful wind and heavy rain caused vehicles yesterday were hard to move on Nguyen Van Cu, Tran Hung Dao and Nguyen Thi Minh Khai Streets.

A "ironwood" tree (its scientific name is Erythrophleum fordii Oliver) with a trunk diameter of up to 70 cm was uprooted by the downpour in front of Buu Thanh Pagoda in district 10.
After receiving the information, the functional forces quickly cleaned up the scene.
According to the National Hydrology Meteorology Forecast Center, Ho Chi Minh City will continue suffering small- medium rain, thunderstorm, cyclone and strong wind. The highest daytime temperature in the city will keep at 32- 33 degrees Celsius.
The southern region's weather condition is circus cloud, small- medium rain and thunderstorm. The highest temperature will be 31- 33 degrees Celsius.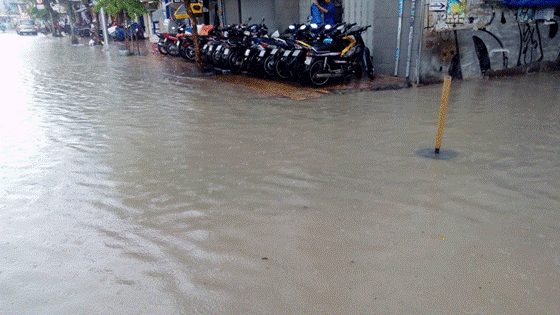 Heavy rain yesterday caused flood in the presidential areas of Ho Chi Minh City.

Tags: