Hailstones, the size of a small finger nail, fell for about 10 minutes at the beginning of sudden downpour in District 10 of Ho Chi Minh City late yesterday afternoon.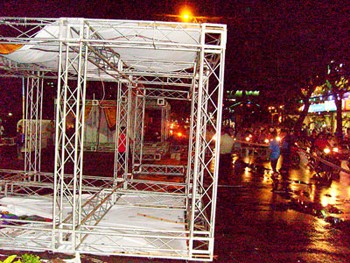 Strong winds blew the steel gate to tumble down injuring five people (Photo: SGGP)
Nguyen Minh Giam, deputy director of the Southern Regional Hydro Meteorological Forecasting Center explained the occurrence caused by very hot weather and thunderstorms, creating an increase of moisture in the atmosphere.  This then develops into hailstones in the thunder clouds.
The downpour occurred during peak hours, causing heavy traffic gridlock for two to three hours in several areas of the city.
Lac Long Quan- Au Co crossroad saw thousands of vehicles jostling on a nearly two kilometer stretch until 7pm.
Similar conditions prevailed in several other spots including Hang Xanh roundabout and Mien Dong bus station in Binh Thanh District.  Hanoi Highway and Kha Van Can Street in Thu Duc, Nam Ky Khoi Nghia in District 3 and Nguyen Van Troi Street in Phu Nhuan also faced massive congestion.
The heavy rain and strong winds uprooted a big tree which fell across Lu Gia Street in District 11.
Strong winds also toppled a 15m high steel entrance gate to Phu Tho indoor sports stadium. The gate collapsed, badly injuring five people travelling on Lu Gia Street at that time.